COVID-19 recovery information and updates
The City of Wanneroo is reopening a number of community services and facilities in line with Phase 3 of the State Government's COVID-19 Roadmap to Recovery. Click here to find out more
Home
Closure of City's playgrounds, outdoor gyms and skate parks
Published Tuesday, 31st March 2020
Following yesterday's announcement by the State Government, all of the City's playgrounds, outdoor gyms and skate parks/BMX tracks will close for one month.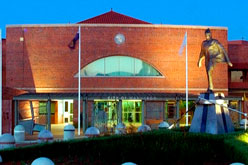 The move is to ensure the health and safety of our community as the COVID-19 situation unfolds. The closures will be reviewed after two weeks to judge their effectiveness.
An additional two-person limit for gatherings in public spaces is also now in place, which applies to outdoor group-exercise classes and boot camps.
If you do want your exercise fix, visit the City's Wanneroo Aquamotion Facebook page to get some tips on how to exercise at home with our creative and skilled fitness instructors.
The City of Wanneroo, like other government agencies, is receiving regular advice and updates from the State and Federal Governments and Departments of Health on Australia's COVID-19 status and guidelines for response.
Please visit the City's dedicated COVID-19 webpage for the latest information about our facilities, services and events.

More articles in the news archive.