COVID-19 recovery information and updates
The City of Wanneroo is reopening a number of community services and facilities in line with Phase 3 of the State Government's COVID-19 Roadmap to Recovery. Click here to find out more
Home
Your Waste – Your Choice
Published Tuesday, 5th May 2020
Ratepayers can now choose to swap to a free bigger recycling bin to reduce what goes to landfill and increase the reuse of valuable resources.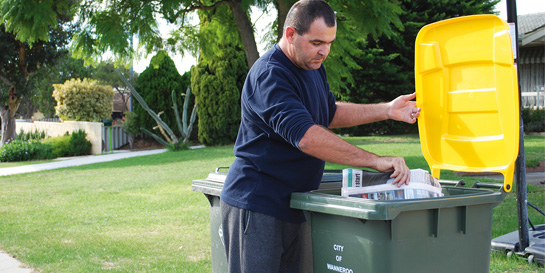 Mayor Tracey Roberts said the larger 360L recycling bin provides residents with more space to 'recycle right', with a positive outcome for the environment and community.
"Efficient and appropriate waste management is a priority for the City and as a community we should view waste as a valuable resource that can be reused to reduce our negative impact on the planet," Mayor Roberts said.
"Waste is an important environmental issue. With forecast population growth, it is imperative that all levels of government continue to work together to develop more efficient waste management solutions.
"The State Government has set a waste diversion from landfill target of 70% by 2025 and by offering residents the choice of upsizing their recycling bin to 360L, the City is progressing towards meeting the State Government's goal.
"About 27% of items put into our general waste bins are recyclable, so if everyone does the right thing and places those recyclables in the yellow lid recycling bin we'll be able to support a significant increase in resource recovery which benefits our planet.
"Property owners will receive communication from the City with information about how to request a bigger recycling bin if needed and if so make their selection via the online form on the City's website before the deadline.
"The City conducted extensive community consultation in 2018 about waste management to gauge residents' and ratepayers' preferences. Survey results informed a review of Waste Services.
"Our recycling and waste programs need continued community support so I encourage everyone keep up good recycling behaviour; making sure only clean, loose and appropriate items are placed in recycling bins."
FAST FACTS
The online selection process is now open via wanneroo.wa.gov.au/chooseyourbinsize
Online selection closes at 5pm Sunday 7 June 2020
Only property owners or managers can complete the form
The Rates Notice Assessment Number is required
Landlords or property managers can decide whether to upsize, or can consult the tenant if they wish, but they must complete the online request on behalf of the tenant.
360L recycling bins are likely to be delivered from October 2020 over a period of approximately 12 weeks
Further information for residents with special circumstances, such as lifestyle villages, or shared bins can be found in the FAQs
The project is part-funded by the State Government of Western Australia through the Waste Avoidance and Resource Recovery Account and administered by the Waste Authority.
RECYCLING TIPS
Place only clean/rinsed and loose items in the recycling bin:
Plastic bottles and containers (lids off)
Paper (not shredded)
Flattened cardboard
Aluminium and steel cans
Glass.
Tissues, paper towel and wipes must be placed in a bag and put in the general waste bin. They are not recyclable.
For more information head to: wanneroo.wa.gov.au/wasteatoz
More articles in the news archive.