Total fire ban - Wednesday 8 December 2021
DFES has declared a 24 hour TOTAL FIRE BAN for the City of Wanneroo on Wednesday 8 December 2021. The Fire Danger Rating is forecast as EXTREME. Further information
Home
City welcomes new and returning councillors
Published Thursday, 21st October 2021
The City of Wanneroo has welcomed four new and three returning members to Council following their success in the Local Government Election.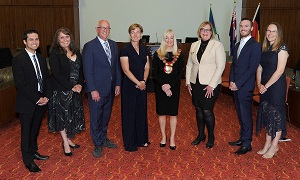 Mayor Tracey Roberts swore the Councillors in to positions in the City's new seven-ward system at a ceremony at the Civic Centre on Monday 18 October.
Newly elected councillors are:
North Ward
Sonet Coetzee (re-elected)
North-East Ward
Linda Aitken (re-elected)
Central-West Ward
Central-East Ward
Central Ward
South-West Ward
South Ward
Mayor Tracey Roberts congratulated her fellow council members on their successful election.
"I warmly congratulate our newly elected and re-elected Councillors, and I trust they will work hard alongside our current Councillors to deliver excellent opportunities and results for our community," she said.
"I look forward to working with all of our councillors to represent the best interests of our community and to ensure the City of Wanneroo is a strong, connected community that our residents are proud to call home.
"Our Councillors bring diverse expertise to Council, which will ensure that the needs and aspirations of our residential and business communities continue to be represented.
"I would also like to take this opportunity to sincerely thank our former councillors, Dot Newton (Central Ward, 2001–2021), Lewis Flood (North Coast Ward, 2017–2021), Hugh Nguyen (South Ward, 2013–2021) and Domenic Zappa (South Ward, 2013–2021), for their hard work and dedication to the community and the City of Wanneroo over the years."
The newly formed council will attend a Special Council Meeting on Tuesday 26 October to elect the Deputy Mayor and representatives of committees and working groups.
Community members are welcome to attend.
View the full City of Wanneroo Local Government Election results.
More articles in the news archive.