Home
Shellfish and crabbing warning for Mindarie Marina
Published Thursday, 2nd December 2021
The following advice has been provided by the Department of Health.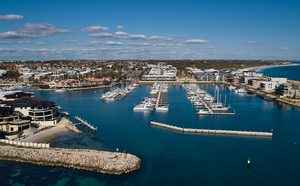 The Department of Health is advising people not to eat crabs or shellfish collected from the Mindarie Marina, following recent samples collected by the Department of Water and Environmental Regulation confirmed elevated levels of a toxic Alexandrium alga.
Crabs or shellfish collected from within Mindarie Marina should not be eaten due to the potential for unsafe levels of paralytic shellfish toxins.
People who consume wild shellfish or crabs collected from Mindarie Marina may experience symptoms including:
tingling or numbness of the lips, prickliness in fingertips and toes
nausea or vomiting
impaired balance or dizziness
slurred speech, double vision, weakness
difficulty in swallowing or breathing, loss of fluids and diarrhoea.
In severe cases, paralytic shellfish poisoning (PSP) may cause muscular paralysis in people who consume affected shellfish or crabs. Shellfish includes oysters, mussels, clams, pipis, scallops, cockles and razor clams.
Anyone who has consumed shellfish or crabs collected from the Mindarie Marina and experiences any of these symptoms should seek urgent medical attention, particularly if they have difficulty breathing.
They should also retain uneaten portions of mussels or crabs to help determine a likely cause of any symptoms.
Farmed shellfish purchased in supermarkets and other commercial outlets in WA are not affected because there is a strict quality assurance program to ensure they are safe for human consumption.
Other recreational activities including swimming and boating are not affected by this microalgae species, but as a general rule, swimming should be avoided in areas of discoloured water.
Health warning signs advising against crabbing and shellfish collection have been erected by the City of Wanneroo in key areas around Mindarie Marina.
The City of Wanneroo in conjunction with the Department of Health and the Department of Water and Environmental Regulation will continue to monitor and assess water quality within the Mindarie Marina.
Further information in relation to Alexandrium alga and algal blooms can be found on the following websites:
More articles in the news archive.