Home
Celebrating the pioneering spirit of the City
Published Monday, 6th December 2021
A special event held at the Wanneroo Civic Centre honoured residents who have dedicated their lives to the local community.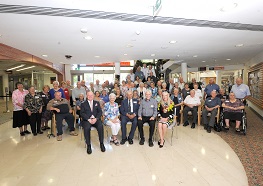 On Friday 3 December, Mayor Tracey Roberts welcomed 55 Pioneers and their guests to the annual Pioneers Lunch, which recognises the City's rich pioneering history, growing from a population of about 100 at the time of settlement in 1902 into the thriving community it is today.
Mayor Roberts said the luncheon celebrated those who helped lay the foundation of what has become one of Australia's largest and fastest growing cities.
"From humble beginnings when James and Mary-Ann Cockman became Wanneroo's first permanent settlers in 1852, the City of Wanneroo is now home to more than 216,000 residents," she said.
"Our Pioneers played an important role in contributing to the rich history of the wonderful City we live in today, working hard to build a prosperous community for themselves, their families and future generations.
"In the early days of our community, the population was small in number, but everyone looked out for one another with a caring and nurturing spirit.
"As a Council, we are incredibly proud that those strong values live on in our vibrant and multicultural City today."
Freeman of the City, Mr Bill Marwick, said Wanneroo's pioneer families paved the way for modern Wanneroo through their hard work, dedication, and enterprise.
"Many who will attend this year's Pioneer Lunch will have no trouble recalling a far different Wanneroo to the one we know now," he said.
"It was a time when everyone knew everyone. Entertainment consisted of fortnightly dances with 'picture shows' in between. Bus service was one a day to Perth and one a day back to Wanneroo.
"Family was everything to our pioneers, and it is fitting the City of Wanneroo recognises and acknowledges their contributions to our past, present and future."
The annual luncheon is an opportunity to share memories and celebrate Wanneroo's history.
From 1975 to 2016, the City recognised about 250 people who had lived in and contributed to the establishment of the area for 50 or more years.
While recognition of new Pioneers stopped in 2016, the luncheon continues to be held every year to honour existing pioneers.
Fact file
The City of Wanneroo Pioneers Luncheon acknowledges residents who have dedicated more than 50 years of their lives to the Wanneroo community.
There are currently 80 living Pioneers in the City of Wanneroo.
More articles in the news archive.