Home
Mobile CCTV poles enhance security in the City of Wanneroo
Published Monday, 10th January 2022
The City of Wanneroo and the State Government have joined together to bolster the City's commitment to community safety, deploying three new mobile CCTV poles to enhance security.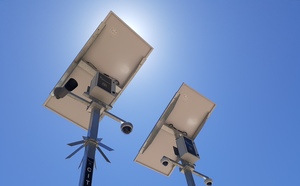 The cameras will be used to help combat antisocial behaviour and deter and solve crime in collaboration with local police.
One of the cameras also has Automatic Number Plate Recognition, which supports road safety by helping identify offending vehicles and drivers and helps deter, detect and disrupt illegal activity.
Wanneroo Mayor Tracey Roberts said as well as creating a safer environment for residents and visitors, CCTV helped protect and preserve City facilities for the benefit of the whole community.
"The safety of our community and the ability for our residents and visitors to enjoy our City's many sites is of the utmost importance," Mayor Roberts said.
"A 2020 City trial of portable CCTV technology demonstrated that it is not only a useful deterrent for antisocial behaviour, but that people feel safer knowing incidents can be recorded and pursued.
"We welcome the State Government's generous contribution of $100,000 to upgrade our CCTV capability and enhance safety across the City."
The funding, provided through the Department of Local Government, Sport and Cultural Industries, sees the delivery of an election commitment by Member for Wanneroo Sabine Winton MLA to support the City and local police in combating antisocial behaviour.
"I am often contacted by residents regarding their concerns about community safety in our suburbs," Ms Winton said.
"With these mobile cameras, community reports can help identify hotspots where a CCTV unit could be deployed as a deterrent, supporting the important work of Wanneroo Police and the City of Wanneroo to keep our community safe."
Wanneroo Police Station officer in charge Senior Sergeant Mo Livingstone said CCTV was a proven antisocial behaviour and crime prevention measure and a valuable tool to help identify offenders.
"We work very closely with the City of Wanneroo and local residents to keep the community safe, and the benefits of this collaboration are further enhanced and supported by CCTV," Senior Sergeant Livingstone said.
"Being able to move the poles to different locations as needed is a welcome boost to our surveillance capacity in public areas to help create a safer environment for our community."
More articles in the news archive.