City phones down due to power outage
There is currently a power outage affecting areas of Wanneroo, Sinagra, Wangara, and Hocking. This is affecting inbound calls reaching us. Alternative ways of contacting the City
Home
City seeks community support to secure funding for Alkimos pool
Published Friday, 21st January 2022
The City of Wanneroo is calling on the community to show their support for the proposed Alkimos Aquatic and Recreation Centre to help secure additional funding for the project.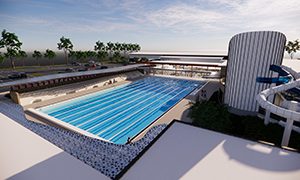 Currently $40 million is allocated to the project, including initial funding commitments of $10 million from the State Government and $5 million from the Federal Government. An additional $30 million is required to ensure the City can deliver the full scope of the project.
City of Wanneroo Deputy Mayor Brett Treby said he was pleased to see the community had rallied together to support the project when the latest round of community engagement launched last month.
"Over 1,000 residents have registered their support for the project and the concept design has received over 700 comments and interactions via our online community consultation platform," he said.
"This support will give the City the best possible chance of attracting additional funding for the project to allow us to deliver a facility that will suit the needs of our growing northern corridor community well into the future."
The design, which features indoor and outdoor swimming pools, gym and fitness facilities, a crèche, café, change rooms and a car park, has already garnered attention within the Western Australian swimming community.
Two-time Olympic swimmer Blair Evans said she is passionate about seeing the new facility open in Alkimos, to provide the young people of the northern corridor with the same sporting opportunities she had as a child.
"Having a local swimming pool for me was so instrumental in my entire swimming career," she said.
"Being on the world's biggest stage is something I'm so proud of, but I wouldn't have been able to have that experience without starting where I did, being surrounded by so much support from my local centre and the staff that worked there.
"It's exciting for kids to have the potential to get in there, start some sports, start something new and then hopefully end up at the Olympics one day."
The community can show their support for the Alkimos Aquatic and Recreation Centre and help the City attract additional funding for the project by completing the short online form.
Residents are also encouraged to have their say on the concept design for the facility during the community engagement period, which runs until 31 January 2022.
More articles in the news archive.