Home
City rolls out BINS4Blokes
Published Friday, 28th January 2022
BINS4Blokes incontinence bins have been placed at 26 sites across the City of Wanneroo to improve access and inclusion and help de-stigmatise male incontinence.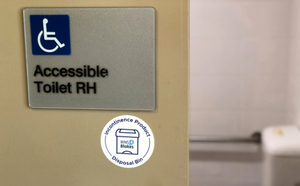 Busy locations, including facilities that offer key City services were chosen for the bins, which are similar to nappy and hygiene product disposal bins, but feature specific labelling to let users know they can be used for incontinence products.
City of Wanneroo Deputy Mayor Brett Treby said the addition of the BINS4Blokes bins to City facilities, sporting pavilions and other popular venues would make a huge difference to the lives of many residents.
"In Australia, 1.34 million boys and men live with incontinence but there are limited or no disposal facilities available to them. BINS4Blokes is a national campaign that aims to raise awareness of this issue and encourage organisations, including local governments, to introduce disposal bins in their facilities," he said.
"To be able to provide those who live locally with improved access to facilities across the City through the provision of these bins is a fantastic step forward.
"Some of the locations that were identified as high-traffic areas already had existing nappy disposal bins available, and these bins can now be used for both purposes."
Signage has now been installed at City buildings and toilets blocks where the disposal bins are available, including stickers on cubicle doors to help users identify the locations of the bins.
BINS4Blokes are now located in the following facilities:
Alexander Heights Community Hall
Aquamotion in Wanneroo
Banksia Grove Community Centre
Belhaven Park Sports Amenities in Quinns Rocks
Butler Community Centre
City of Wanneroo Civic Centre
Dennis Cooley Pavilion in Girrawheen
Fisherman's Hollow Beach toilet in Yanchep
Quinns Mindarie Community Centre
Girrawheen Senior Citizen's Centre
Pearsall Hocking Community Centre
Girrawheen, Clarkson and Two Rocks libraries
Girrawheen Hub
Grandis Park Pavilion in Banksia Grove
Gumblossom Community Centre in Quinns Rocks
Kingsway Indoor Sports Stadium in Madeley
Kingsway Netball Clubrooms in Madeley
Leatherback Park Sports Pavilion in Alkimos
Olympic Soccer Clubrooms in Madeley
Riverlinks Park Sports Amenity in Clarkson
Wanneroo Library and Cultural Centre
Wanneroo Recreation Centre
Warradale Park in Lansdale
More information is available at bins4blokes.org.au
More articles in the news archive.