City phones down due to power outage
There is currently a power outage affecting areas of Wanneroo, Sinagra, Wangara, and Hocking. This is affecting inbound calls reaching us. Alternative ways of contacting the City
Home
City's Art Awards celebrate local talent
Published Monday, 14th March 2022
Rebecca Dagnall has been named the overall winner of the prestigious City of Wanneroo Community Art Awards and Exhibition, taking home the grand prize of $7,500 for her photo Sacrifice.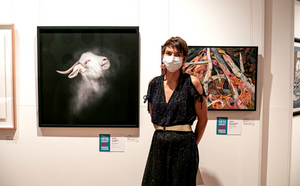 Rebecca was one of 11 winners whose artistic talents were recognised as part of the Art Awards, taking home a share in the $18,700 prize pool.
The City received 150 entries to the Awards, including 87 paintings, 35 works on paper and 17 sculptures. Of these, 55 artworks were contributed by City of Wanneroo residents.
Other entries came from artists around the State, including Dawesville, Mount Barker and Mount Nasura.
An independent judging panel comprising Artist and Executive Director of Art on the Move Dr Theo Constantino, Artist and curator Lia McKnight and Artist, curator and director of Gallery East Janis Nedela.
Mayor Tracey Roberts said she was impressed by the high calibre of entries.
"I am always inspired by the incredible creativity and talent displayed in the City's Arts Awards and appreciate the opportunity to showcase the talents of our artistic residents through the exhibition," Mayor Roberts said.
"I am particularly proud that this year, 55 City of Wanneroo residents submitted entries, reflecting our strong and diverse artistic community.
"Congratulations to all of this year's winners, and to everyone who contributed an artwork to this year's Art Awards Exhibition."
Visitors to the exhibition can take part in the judging of the People's Choice Award by nominating their favourite artwork, with the winning entry to be announced on Tuesday 19 April.
Take the virtual tour or visit the free exhibition on display at the Wanneroo Gallery until Thursday 14 April.
Please note, there is currently a 50-person capacity limit in the gallery in line with current State Government public health and social measures.
For more information, please phone 9405 5920 or visit wanneroo.wa.gov.au.
PRIZES
City of Wanneroo Open Award (acquisitive) $7,500
Artist: Rebecca Dagnall
Title: Sacrifice
Category: Photo, Film and Digital media
Media: Archival pigment paper
Judges' comments: Effective use of light/dark, both literally and thematically. Beautiful presentation, powerful impact, skilful editing, compelling – rewards long viewing.
Best City of Wanneroo Resident $2,000
Artist: Genevieve Hartney
Title: Understory #1
Category: Painting
Media: Acrylic paint
Judges' comments: Very skilful, visually engaging, surprising use of colour, vivid colour, fine detail, intricate application of media.
Highly Commended Wanneroo Resident $1,000
Artist: Corinne Scott Jackson
Title: Precious Things
Category: Painting
Media: Acrylic on Carnaby tail feather
Judges' comments: Delicate, restrained, charming, good presentation.
Painting Winner $1,400
Artist: Elyssa Hunt
Title: Rottnest Landscape
Media: Oil on canvas
Judges' comments: Beautiful light and shadow treatment, good choice of colours.
Painting Highly Commended $500
Artist: Jo Duval
Title: Fragmented
Media: Oil and encaustic wax
Judges' comments: Beautiful textures, good choice of colours, enjoy the composition, draws in the viewer.
Sculpture Winner $1,400
Artist: Helen Robins
Title: Coralled
Media: Stoneware paper clay
Judges' comments: Engaging object, compelling texture.
Sculpture Highly Commended $500
Artist: Natasha Adamson
Title: Echoes of Eternity
Media: Fused glass and plywood
Judges' comments: Skilful construction, especially the glass element.
Works on Paper overall $1,400
Artist: Linda Fardoe
Title: Mindscape Blues
Media: Giclee /drawing
Judges' comments: Immersive, intricate, conveys drama of Australian landscape.
Works on Paper Highly Commended $500
Artist: Shelley Cowper
Title: Portholes and Portals, Nightwatch III
Media: Etching, relief, collagraph, lino-cut
Judges' comments: Delicate etchings, beautiful presentation.
Photo, Film and Digital Media Winner $1,400
Artist: Susan Moss
Title: Down the S Bend
Media: Photograph
Judges' comments: Complex, intricate composition, technically proficient, great use of perspective.
Photo, Film and Digital Media Highly Commended $500
Artist: Jeremy Blank
Title: Yaberoo Budjara (Djeran)
Media: Plein air iPad drawing/ digital print
Judges' comments: Evocative of Australian bush.
More articles in the news archive.