City phones down due to power outage
There is currently a power outage affecting areas of Wanneroo, Sinagra, Wangara, and Hocking. This is affecting inbound calls reaching us. Alternative ways of contacting the City
Home
Have your say on the Draft Economic Development Strategy 2022 – 2032
Published Thursday, 14th April 2022
The City of Wanneroo is calling on local investors, businesses and the community to have their say on the Draft Economic Development Strategy 2022 – 2032.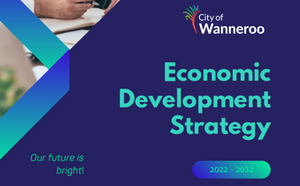 Wanneroo Council resolved to release the Strategy for public consultation at its April Council Meeting, with the support of the City's Business and Tourism Advisory Group.
The Strategy outlines the City's intentions for local economic development over the next 10 years and aims to generate approximately 20,000 new jobs and increase resident employment by 33 per cent.
Wanneroo Deputy Mayor Brett Treby said the City had experienced considerable changes to the local, regional, national and international economic environment over the past five years, including the impacts of COVID-19, prompting the development of a renewed strategy.
"The draft Economic Development Strategy 2022 – 2032 has been developed using a robust framework that ensures it aligns with the City's newly endorsed Strategic Community Plan," Deputy Mayor Treby said.
"With a population of nearly 220,000 people, and over 150,000 new residents forecast to call Wanneroo home over the next 20 years, it is crucial that the City works to enable diverse opportunities for local job growth – a key focus of the renewed plan."
The Strategy outlines six focus areas: Industry Diversification; Business Engagement and Support; Investment Attraction; Planning for the Future; Leadership Innovation and Sustainability; Tourism Industry Support and Development; and Strategic Economic Advocacy.
"The City plays a very important role in supporting businesses to flourish and helping secure local employment opportunities so our community can choose to live, work and play locally, ultimately enhancing quality of life for our residents," Deputy Mayor Treby said.
"Public consultation is a vital part of all that we do as a City, and we are eager to hear the community's thoughts on the draft Strategy."
The community is encouraged to have their say on the Strategy before the public consultation period closes on Wednesday 11 May 2022.
Find out more about the draft Economic Development Strategy 2022 – 2032.
More articles in the news archive.