Home
Pirates team up with technology
Published Thursday, 26th May 2022
Local sporting clubs based at Leatherback Park, including the Alkimos Pirates Lacrosse Club, are benefitting from the presence of the City's mobile CCTV poles.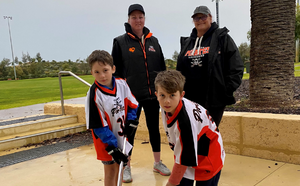 The City has three cameras that can be moved to different locations to help combat antisocial behaviour, in collaboration with local police.
Alkimos Pirates Lacrosse Club Secretary Tamara Sanders said stationing a mobile CCTV pole at Leatherback Park was helping protect and preserve the City facility for the benefit of the whole community.
"We have a really nice, new building to use as clubrooms for the Pirates," she said.
"Having the CCTV pole at the park has helped deter vandalism and protect the building and surrounding area for everyone, from dog walkers and people who want to run, cycle or exercise at the park, to families who want to spend a day outside at the playground."
Completed in 2020, the Leatherback Park Pavilion upgrades include unisex change rooms, a kiosk, male, female and accessible toilets, a first aid room, umpires room and verandah.
The CCTV poles can be moved to different locations in consultation with the City's Community Safety Working Group and local police.
The State Government's Department of Local Government, Sport and Cultural Industries provided $100,000 to upgrade the City's CCTV capability and enhance safety across the City.
More articles in the news archive.