Home
Celebrating NAIDOC Week – 3-10 July 2022
Published Thursday, 30th June 2022
NAIDOC Week is a time for all Australians to come together to celebrate the rich history, diverse cultures and achievements of Aboriginal and Torres Strait Islander Peoples.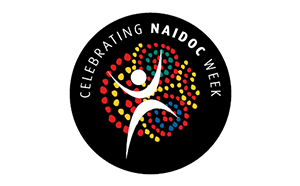 This year's theme is Get Up! Stand Up! Show Up! It calls for a genuine commitment to support and secure institutional, structural, collaborative, and cooperative reforms. This message is intended to encourage all people to make a genuine commitment to support and help secure institutional, structural, collaborative and cooperative reforms. It also celebrates the many people who have driven change in our communities over generations.
The City of Wanneroo is proud of its Whadjuk Noongar heritage and we are celebrating NAIDOC Week 2022 with a variety of activities to encourage our community to get involved.
On Friday 1 July, the City held a formal flag raising ceremony in the Jacaranda Amphitheatre, as symbol of respect and appreciation for the City's local Aboriginal heritage, culture and community. The event featured Judith Birchall as MC, a Welcome to Country by Vaughn McGuire, and a special dance performance by Aboriginal students from Girrawheen Senior High School. We also recognised the Coming of the Light, a holiday that is celebrated by Torres Strait Islanders on 1 July each year.
During NAIDOC Week, Aboriginal virtual art exhibitions will be on display in the Civic Centre foyer and City libraries, and a series of Aboriginal books will be featured in the It's All About Stories program for young children and parents. During the July school holidays, families will also be able to collect an Aboriginal reading kit for children to continue their reading journey at home.
This month, the City is also launching Niny Bidi, a series of youth-focused Noongar Six Seasons workshops hosted at the City's youth centres. The workshops encourage respectful discussion and support young people in understanding and exploring the Noongar Six Seasons. Activities include arts, crafts and cooking.
Interested in learning more about Aboriginal heritage in the City of Wanneroo? Visit Aboriginal History in Wanneroo and Yaberoo Budgara Heritage Trail
More articles in the news archive.