Home
City adopts Economic Development Strategy
Published Thursday, 18th August 2022
Wanneroo Council has adopted the Economic Development Strategy 2022 − 2032, a key document in outlining the City's intentions for local economic development over the next 10 years.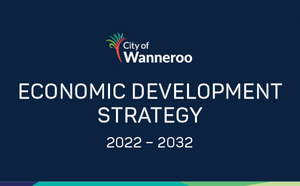 Deputy Mayor Brett Treby said the Strategy had been well received by the community during recent consultation.
"Over 150,000 new residents are forecast to call the City of Wanneroo home over the next 20 years, and it's crucial that we cultivate a strong local business environment with new and diverse employment opportunities to support sustainable economic growth," he said.
"The Economic Development Strategy outlines how the City plans to support the generation of approximately 20,000 new local jobs over the next decade, allowing more residents to work closer to home.
"It is a forward-thinking Strategy that will ensure the City's vision and economic purpose are achieved."
The Economic Development Strategy 2022 − 2032 contains six focus areas: Business engagement and support; Investment attraction and marketing; Planning for the future; Leadership, innovation and sustainability; Tourism industry support and development; and Strategic economic advocacy.
"Thank you to everyone who took the time to have their say on the draft Strategy. We were pleased to be able to incorporate a number of suggestions into the final document," Cr Treby said.
Key stakeholder, the Wanneroo Business Association (WBA), provided feedback to help shape the final Strategy.
WBA General Manager Lauren Bell commended the City and said the Strategy would play an important role in the delivery of vital business support services and projects.
"The WBA will continue to advocate and work with the City of Wanneroo to raise awareness of local business needs and ensure business support is accessible to the many rate paying businesses in our City," she said.
"We look forward to working with the City to support the delivery of the Strategy."
Find out more about the Economic Development Strategy 2022 − 2032.
More articles in the news archive.