Extraordinary Council Election 14 December 2022 (North-East Ward)
To view the profiles of candidates and election notice for the upcoming Local Government Election, please visit the Extraordinary Election webpage
Home
Tender awarded for upgrade of Clarkson Youth Centre
Published Wednesday, 26th October 2022
Upgrades to modernise Clarkson Youth Centre are a step closer after AE Hoskins Building Services was awarded the tender at Wanneroo Council's October meeting.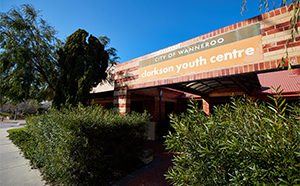 The $1.6 million project will include a complete revamp of the centre, with the addition of accessible study and kitchen spaces, a new lounge area, function room with timber flooring and universal access toilet facilities.
New energy efficient appliances, LED lighting and smart technology in meeting rooms will future proof the building, while the centre's main entrance will be relocated to better connect the building with the outdoor facilities, including the pump track and adjoining skate park.
The upgrades are funded by a $1 million contribution through the Australian Government's Local Roads and Community Infrastructure Program, a $500,000 grant from Lotterywest and a City of Wanneroo contribution.
Mayor Linda Aitken said the works would modernise a key community space.
"The Clarkson Youth Centre is now 20 years old and requires an upgrade to cater for our growing community," she said.
"These important upgrades will ensure our young people have a safe and modern environment where they can socialise, take part in recreational activities and connect, grow and thrive in their local community."
Federal Member for Pearce Tracey Roberts said the Federal Government was proud to contribute funds to the revitalisation of a much loved centre.
"With the growing amount of young families and youth in Pearce, it's important to ensure we provide infrastructure and community facilities for all to enjoy," she said.
"I look forward to working with the State Government and the City of Wanneroo on this important project."
Clarkson Youth Centre is now closed for works, but the community can still access youth programs from Butler Community Centre on Wednesdays and Fridays.
Clarkson Skate Park will remain open and the youth trailer will be on-site each Thursday from 3.30pm to 6pm.
More articles in the news archive.