Extraordinary Council Election 14 December 2022 (North-East Ward)
To view the profiles of candidates and election notice for the upcoming Local Government Election, please visit the Extraordinary Election webpage
Home
Exhibition tells stories of loss and love through tattoos
Published Wednesday, 16th November 2022
A unique photographic exhibition is now showing at Wanneroo Gallery, showcasing Australian Defence Force veterans, who through their tattoos commemorate the people, events and experiences that shaped their lives.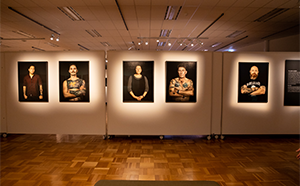 Visitors to the Gallery have the opportunity to view the Australian War Memorial's exhibition Ink in the Lines, a photographic display that reveals how Australian veterans and their families share personal stories and experiences through tattoos.
The exhibition features more than 70 portraits detailing the experiences of 22 Australian servicemen and servicewomen.
Mayor Linda Aitken said the exhibition is thought to be the first in Australia to explore the use of tattoos in the military.
"I hope this exhibition helps visitors to engage with the Australian military in a way they probably haven't before," she said.
"It is particularly touching that we opened this exhibition at the Gallery the same week as we marked Remembrance Day.
"I am proud that we can share these powerful images and stories with the community."
Memorial Director Matt Anderson said he was pleased the Ink in the Lines tour was able to take contemporary military stories around the country and to connect with today's veterans in a way that resonates with them.
"The experiences of present day veterans and their loved ones are unique and often intensely private," he said.
"There is no more personal way to preserve a memory of an event than to have it tattooed on one's skin – a reminder of the service and sacrifice we all too often take for granted."
Ink in the lines is on display at Wanneroo Gallery until 14 January 2023. For more information head to the event page.
More articles in the news archive.