Home
A new chapter begins for Dordaak Kepap
Published Tuesday, 15th November 2022
The concept design for Dordaak Kepap, the proposed Landsdale Library and Youth Innovation Hub, has been praised by locals during recent community consultation.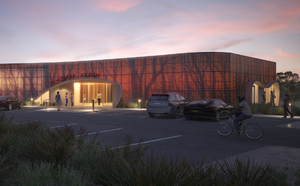 The project will now progress to the detailed design stage, after Wanneroo Council approved the concept design at its November meeting.
Wanneroo Mayor Linda Aitken said it was fantastic to hear directly from Landsdale families and young people about what they wanted to see in the future library and youth innovation hub.
"The most popular services, programs and activities planned for Dordaak Kepap were the classic library elements, early childhood offerings, and STEAM (Science, Technology, Engineering, Arts and Mathematics) programs," Mayor Aitken said.
"This feedback has demonstrated that we are on the right track with the design of the facility, and I want to thank everyone who took the time to have their say on the concept design.
"I was pleased to see such a positive response from the community, as well as some fantastic comments and suggestions from local students that will prove valuable as we progress to detailed design."
The library and youth innovation hub's name Dordaak Kepap, meaning Place of Living Waters, was chosen through consultation with Noongar elders and community members to reflect the site the facility will sit on, overlooking Broadview Park.
The City will receive a $3 million funding contribution under the State Government's WA Recovery Plan to enable the delivery of the youth innovation hub.
Member for Landsdale, Margaret Quirk MLA, said she was thrilled to see project progressing.
"This exciting development will offer youth in the growing area an attractive array of activities and will greatly enhance the library," she said.
More articles in the news archive.