Website issue - Near Me functionality
The Near Me feature on the City's website is currently not functioning. We are investigating and hope to have it back online as soon as possible.
Home
Dordaak Kepap - Library and Youth Innovation Hub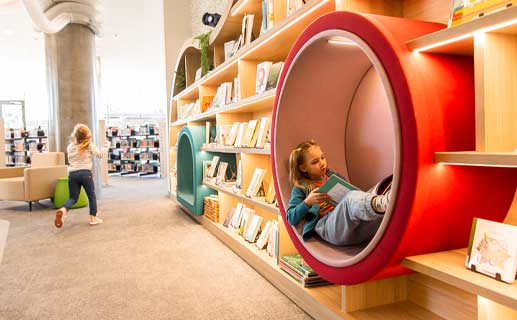 Detailed design under way
In September 2022 the City completed the third and final phase of community engagement to seek feedback for the proposed $10.45 million Dordaak Kepap (pronounced dor-dark kep-up, meaning Place of Living Waters) library and youth innovation hub in Landsdale.
Concept design feedback and preferences for preferred services, programs and activities Dordaak Kepap could offer were collected through an interactive online platform and the results reenforced our community's vision and desire for this facility.
The State Government has contributed $3 million towards the Dordaak Kepap's bespoke Youth Innovation Hub, which will feature two function rooms, a virtual reality room, demonstration kitchen, gaming room, recording booth and studio, podcasting room, function and meeting rooms.
The community engagement phase for Dordaak Kepap is now complete and the City thanks everyone who has taken the time to have their say on the project so far.
The project will now move to the detailed design phase, with construction scheduled to commence in 2023.
An artist impression of the facility is attached and you can learn more about what the community told us they'd like to see at Dordaak Kepap by viewing the interactive plan used during the community engagement.
Launch interactive concept plan
Background
In May 2019, Council endorsed a draft concept which identified 15 The Broadview, Landsdale as a suitable site for a library and youth innovation hub. The design required for the facility should be functional and versatile to meet the needs of the community now, and in the future, and is envisaged to include:
Multi-functional spaces and meeting rooms with audio-visual capability;

Digital and technical hub;
Study spaces;
A children's area;
Activity room and resources such as craft and sewing facilities;
Staff work room and back of house area; and
Public amenities including a changing places / accessible adult change facility.
The Youth Innovation Hub should meet the contemporary needs of young people, with an emphasis on developing a range of new skills that could progress to employment while also delivering a service offering similar to a youth centre. It is envisaged the Youth Innovation Hub could provide the following services or programs:

Recording studio for music and podcasting;
Gaming room and virtual reality;
Multi-functional spaces for performance, events or education programs;
Kitchen for cooking, education programs or demonstration events;
Space for robotics and coding;
Access to computers for design learning;
Access to programs for audio and video production; and
Meeting rooms and chill out spaces.
Subscribe to this project
Subscribe to receive updates on the Dordaak Kepap - Library and Youth Innovation Hub
Subscribe to City news
Subscribe to receive City news including updates on projects.
Project contact
Name: Lesley Wilkinson, Manager Cultural Development Telephone: 9405 5000