Website issue - Near Me functionality
The Near Me feature on the City's website is currently not functioning. We are investigating and hope to have it back online as soon as possible.
Home
City awards tender for Mindarie breakwater works
Published Thursday, 22nd December 2022
The City of Wanneroo has awarded a tender for the Mindarie Breakwater Management Works, with works to commence in 2023.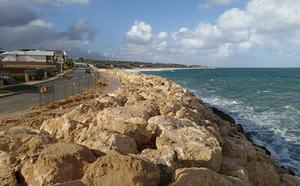 Wanneroo Council accepted a tender from WA Limestone for the works, which include maintenance and upgrades to the breakwater structure, as well as adjustments to civil infrastructure including parking, drainage, pathways and kerbing.
Wanneroo Mayor Linda Aitken said the works would ensure the breakwater structure would remain functional for the next 50 years.
"The Mindarie Breakwater provides safe, calm water conditions in the Mindarie marina and for close by infrastructure, including parking, roads, pedestrian pathways, residential properties and commercial businesses," Mayor Aitken said.
The City undertook a detailed design study from 2019 to 2022 to assess the condition of the breakwater structure and identify breakwater design requirements.
The study used a range of methods including underwater inspections, above and below water surveys, geotechnical investigations and physical and numerical modelling.
The findings of this study informed the design of the Mindarie Breakwater Management Works and will ensure the breakwater remains safe and functional into the future.
The works are expected to begin in January 2023, with completion scheduled for December 2023.
The project will be supported by a $3.3 million contribution from the Federal Government's Coastal and Estuarine Risk Mitigation Program.
Find out more about the Mindarie Breakwater Management Project.
More articles in the news archive.