Mindarie Breakwater Maintenance
The Mindarie Marina breakwater structures were constructed in 1988 as part of the Mindarie Keys Development. These structures provide protection to adjacent infrastructure including parking, road, pedestrian pathways, residential properties and commercial businesses whilst also providing calm marina conditions for private berths and a public boat ramp. Management responsibility of the breakwater structures (Mindarie Breakwater and Spur Groyne) was handed to the City of Wanneroo in 2005. Since this time the City has undertaken a number of technical investigations, monitoring, risk mitigation measures and maintenance works.

Phase 1 Maintenance works were undertaken in 2017/18 which focussed on a 160m length of the Mindarie Breakwater which experienced significant wave overtopping and displacement of rock debris onto the road during storms. The completion of these works increased and widened the crest level of the structure successfully resulting in less wave overtopping and associated safety issues.
Mindarie Breakwater - Phase 1 Maintenance Works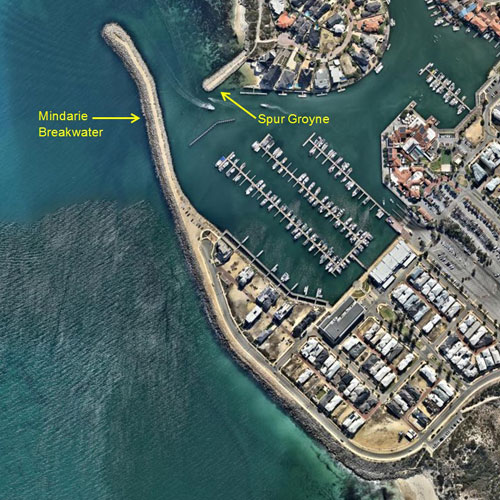 Options Assessment and Detailed Design Study
The City of Wanneroo is currently undertaking the Mindarie Breakwater Options Assessment and Detailed Design Study which will assess potential breakwater maintenance options and provide a detailed design for future breakwater maintenance. The recommended maintenance works will address the existing issues relating to breakwater damage, rock movement and wave overtopping and will ensure that the structures remain safe and functional into the future.
The Mindarie Breakwater Options Assessment and Detailed Design Study consists of the following stages:
Stage 1 - Desktop Review and Data Collection:
Review all existing studies, data and previous works;
Gather additional data necessary for an updated condition assessment and design; and
Determine the existing condition of the breakwater structures.
Stage 2 - Options Assessment and Design Basis:
Identify potential breakwater maintenance options addressing the various potential failure modes to extend the life of the structures; and
Determine the preferred breakwater maintenance option based on a multi criteria analysis.
Stage 3 - Detailed Design:
Provide detailed design drawings and technical specifications suitable for construction of the preferred breakwater maintenance option.
Completion of the study is expected in 2021/22 and the study recommendations will inform the scope of future maintenance works currently scheduled for 2022/23 to 2023/24.