Quinns Beach Access - Waterland Point and South of Groyne 1
Beach access update - 29 October 2018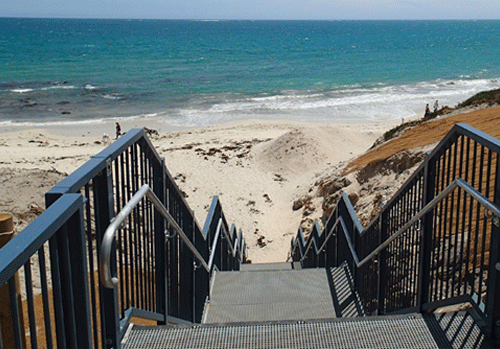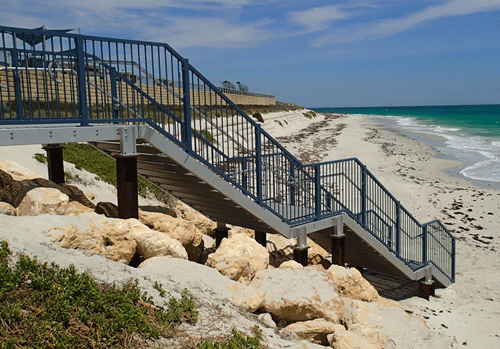 Beach access staircase works at Waterland Point and south of Groyne 1 are both nearing completion with only minor works remaining. Both structures have been opened to the public and will be closed temporarily during the final works. Planting over the matted dune areas will occur in May/June 2019 to maximise survival.
Beach access update - 3 October 2018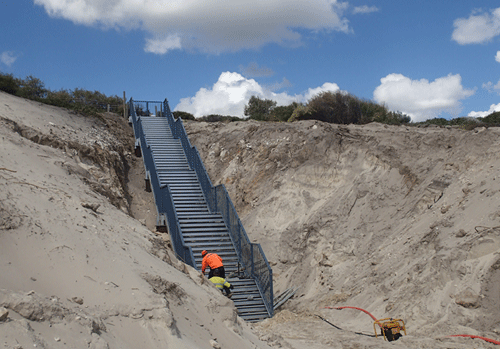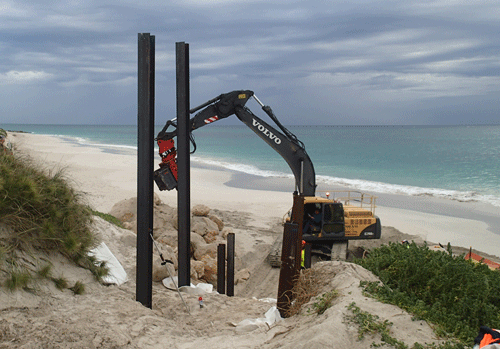 Piling and installation of the staircase structure at Waterland Point is now complete. Rock removal, earthworks and dune stabilisation will continue at this location until mid-October.
The Queenscliff Park carpark and beach access will be reopened to the public on weekends and fully opened after completion of the Waterland Point earthworks.
Beach conditions at the Groyne 1 location have now improved allowing for machinery access to the beach and the commencement of piling works.
Both beach access staircases are expected to be completed and opened to the public by the end of October.
Beach access update - 19 September 2018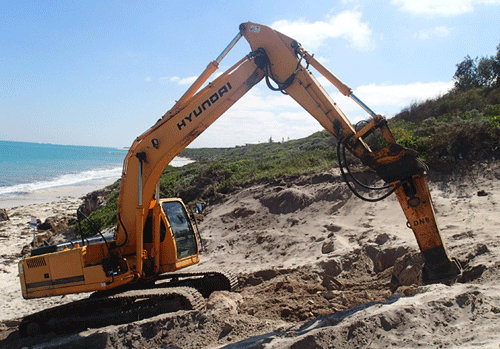 Earthworks for the construction of the Waterland Point Beach Access Staircase are underway. Delays have occurred due to the need for rock removal works which are expected to be completed by next week after which time the staircase piles can be installed followed by the staircase structure. Works at this location are now expected to be completed by early October.
Please be advised that the Queenscliff Park carpark is currently closed to the public as part of these works. Once rock removal is complete and piling materials/equipment are transported from the carpark to Waterland Point, the carpark will be re-opened to the public.
Beach access update - 10 September 2018
Beach access staircase installation works south of Groyne 1 have been delayed due to eroded beach conditions and high water level and wave heights. These works are now scheduled to commence after completion of the Waterland Point beach access staircase, subject to improved site conditions. The current condition of the Quinns Dog Beach is suitable for the Waterland Point staircase works which will commence from today and is expected to be completed by the end of September.
Beach access update - 29 August 2018
The footpath and handrail installation south of Groyne 1 was completed as planned which now provides safe access between the carpark and Fred Stubbs Park. Staircase installation works have been delayed due to winter storm conditions and are now scheduled to commence at the Groyne 1 location in September. Works at the Waterland Point staircase location will commence immediately after the Groyne 1 staircase works with completion expected by the end of October 2018, dependent on weather conditions.
Temporary footpath, carpark and beach closures may apply adjacent to the work sites and signage and fencing will be in place to manage public access in these areas.
Beach access update - 20 June 2018
Construction of the concrete pedestrian footpath from Fred Stubbs Park to the southern groyne commenced this week which will provide safe access between the car park and park. Path works should be complete by the end of June 2018. This will be followed by staircase installation works commencing from mid-July 2018 which will provide a safe and formal beach access point to the beach in front of Fred Stubbs Park. Beach access staircase construction works at Waterland Point (northern end of the Quinns Dog Beach) will commence after the completion of the Groyne 1 staircase in August 2018.
Both staircases will consist of steel piles, aluminium substructure and frame and Fibre Reinforced Polymer (FRP) decking which is consistent with other beach access staircase structures recently installed within the City of Wanneroo.
Refer to the link below for photographs and updates of the beach access staircase recently completed north of the Two Rocks Marina.