Quinns Beach access south of Fred Stubbs Park
Update - July 2019
Construction of the new beach access south of Fred Stubbs Park (opposite 44 Ocean Drive) has been successfully completed within the allocated budget and construction timeframe. The beach access consists of a concrete pedestrian path, Fibre Reinforced Plastic staircase and a short sand pathway to the beach. Additional stairs are buried beneath the rehabilitated sand dune to ensure continued functionality in the event of unexpected erosion at this location. The beach access is now open and has been well received by both local residents and visitors to the area.

Additional planting of the dune rehabilitation areas will occur in 2019/20.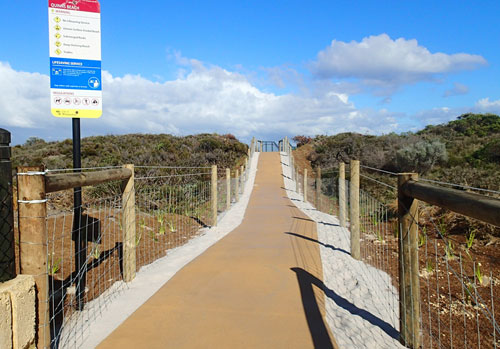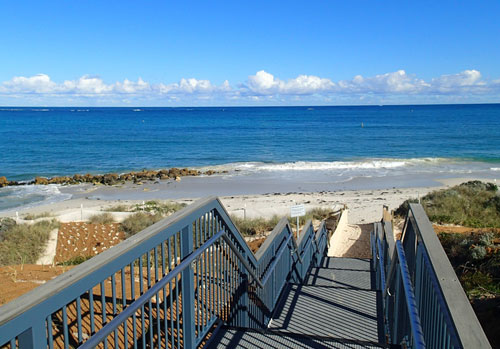 Update - 13 February 2019
Detailed Design of a replacement pathway and staircase structure was completed in June 2018 by coastal engineering consultant, Water Technology.
The detailed design was undertaken following a Multi-Criteria Analysis Options Assessment Workshop which identified the preferred replacement beach access consisting of a combination of a concrete path and a Fibre Reinforced Plastic (FRP) staircase structure.
All necessary approvals have been sought and Environmental Industries have been appointed as the construction contractor. Manufacturing of staircase components is currently underway and construction works are expected to commence in early April 2019.
Update - June 2018
This beach access has been selected for upgrade as part of the City of Wanneroo's Beach Access Way Upgrade Program. This location has been prioritised due to the deterioration of the existing access and engineering recommendations from a condition assessment of all of the City of Wanneroo's beach access ways. The coastline adjacent to this beach access location is also relatively stable due to the protection provided by the adjacent rock headland.
Detailed design of a replacement pathway and staircase structure is currently underway and is expected to be completed in July 2018. Installation works are scheduled for 2018/19 following receipt of all necessary approvals and appointment of a construction contractor.
Should you have any queries in relation to this project please contact the City's Project Manager Coastal Projects, Mr Rory Ellyard, on 9405 5883.