Mindarie Breakwater - Phase 1 Maintenance Works
Update 26 July 2018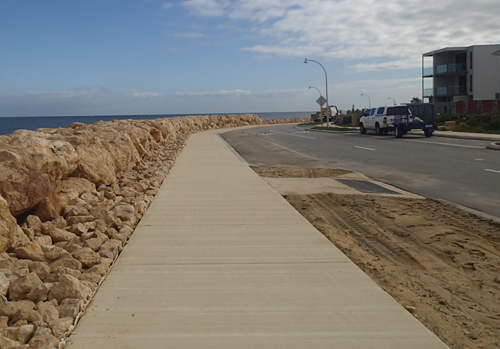 Maintenance of a 160m section of Mindarie Breakwater has now been successfully completed to a high standard. This area now experiences significantly less wave overtopping during winter storm events and the amount of debris displaced onto the footpath and road has been reduced.
This City of Wanneroo will continue to monitor the area with 6 monthly and post storm photographic monitoring and annual condition assessments of the breakwater structure which will assist with the scoping and scheduling of additional maintenance works in the future.
Update - 20 June 2018
Maintenance of a 160m section of the Mindarie Breakwater is nearing completion. The increase in height and widening of the breakwater crest has resulted in noticeably reduced wave overtopping volumes during recent storm events. Replacement of the damaged footpath and repairs to the parking area at the end of Alexandria View is expected to be completed by the end of June 2018.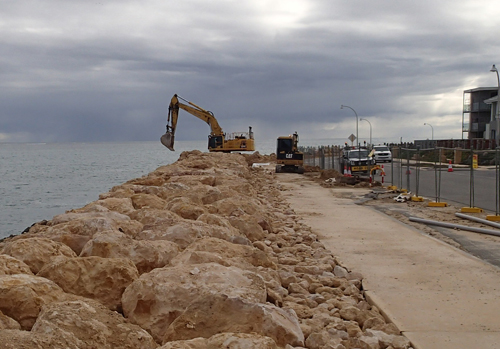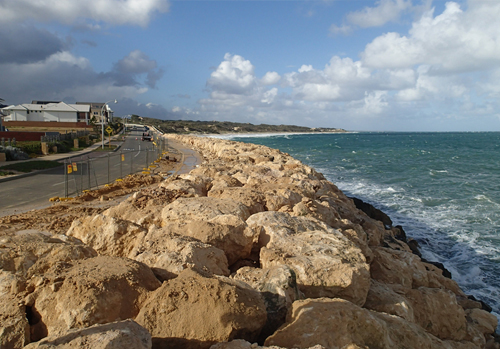 Update - May 2018
Maintenance works on the Mindarie Breakwater are expected to commence on Monday 28 May 2018. Works are focussed on a 160m length of breakwater (refer to figure below) which currently experiences ongoing public safety issues from significant wave overtopping and rock debris displaced onto the footpath and road during storm events. The proposed maintenance works will restore and increase the crest height of the breakwater in this area which will reduce wave overtopping and improve rock armour stability. Completion of the works is expected in early July, subject to site and weather conditions during the construction period.
Temporary closure of the pedestrian footpath, one lane of Alexandria View and parking will apply during the maintenance works with construction fencing, signage and Traffic Management in place as required. Whilst it is inevitable that works of this nature will cause some inconvenience, every endeavour will be made to ensure that this is kept to a minimum.
Should you have any queries in relation to the Mindarie Breakwater Maintenance Project please contact the City's Project Manager Coastal Projects, Mr Rory Ellyard, on 9405 5883