Home
Get rid of household clutter this February
Published Tuesday, 7th February 2023
Come along to the City's community waste drop-off weekend to clear out clutter and get rid of unused household items on Saturday 25 and Sunday 26 February at Ashby Operations Centre.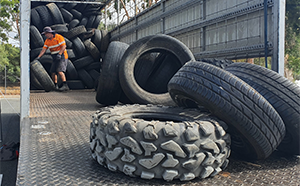 Part of the City's commitment to reducing waste to landfill and combating illegal dumping, the City will be accepting tyres, clothing, e-waste, cardboard and polystyrene.
Mayor Linda Aitken said she encouraged the community to once again get involved in the City's waste drop-off weekend.
"Last year's waste drop-off weekend was a resounding success, with the City collecting 1,374 tonnes of tyres, 9.2 tonnes of e-waste, 3.95 tonnes of clothing and textiles, 4.42 tonnes of cardboard and 49 cubic metres of polystyrene," she said.
"We know our community cares for the environment, so make sure you do your part and check your garages and sheds for unused household items."
Items dropped off will be reused, recycled or disposed of responsibly.
Community drop-off weekend details
Location: Ashby Operations Centre, 1204 Wanneroo Rd, Ashby (North entrance)
Date: Saturday 25 February and Sunday 26 February 2023
Time: 8am to 4pm
For more information, including limits, conditions and items that will not be accepted, visit wanneroo.wa.gov.au/wastedropoff
More articles in the news archive.