Website issue - Near Me functionality
The Near Me feature on the website is currently not functioning. We are investigating and hope to have it back online as soon as possible.
Home
Community Waste Drop-Off Day
Published Tuesday, 23rd March 2021
Time for a clear out! If you've been waiting to dispose of unwanted household items, the time has come.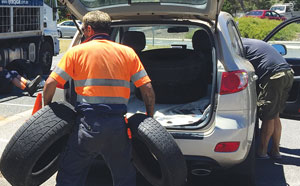 Drop-off days are held annually with the last one held on Saturday 17 April 2021. Residents can discard a range of items including tyres, e-waste, clothing, bulk cardboard and polystyrene for free at the one drop-off location.
The date for the next drop-off day will be advised in due course.
Accepted items
Tyres: Maximum four tyres per household. Residents must show driver's licence or rates notice to drop off tyres. Passenger vehicle and motorcycle tyres only – no commercial tyres.
Clothing: Representatives from registered charities will be on site to collect unwanted clothing. Items accepted: clothing, textiles, manchester, bedding, towels and shoes.
E-waste: Desktop computers and laptops, iPods, mobile phones, hard drives, CDs and floppy drives (computer only), computer server units and UPS systems, inkjet and laserjet printers, LCD, Plasma and CRT monitors and televisions, printers, scanners, copiers, modems and network devices, keyboards, mice and joysticks, fax machines, circuit boards, electronic cables and wiring.
Cardboard and polystyrene
More articles in the news archive.