Home
City celebrates Harmony Week
Published Monday, 13th March 2023
Celebrate the City's multicultural community this Harmony Week, with a host of events including a Vietnamese food tour, Balinese dance and cultural program, and library and museum activities.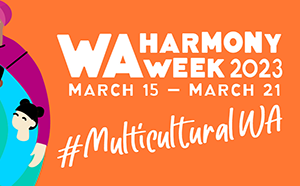 Running from 15 to 21 March each year, Harmony Week encourages all Western Australians to experience, explore and appreciate the State's cultural, religious and linguistic diversity.
Citizenship and Multicultural Interests Minister Dr Tony Buti encouraged Western Australians to get involved and take advantage of this special week by supporting community events happening across the State.
"Western Australia's cultural diversity drives innovation, inspires creativity, and reinforces our connections with the rest of the world," Dr Buti said.
"Harmony Week is a special time to acknowledge the extraordinary work by the many culturally diverse communities that call WA home and to enjoy the incredible contributions they make that enrich our lives."
The City's free Harmony Week events include:
A special It's All About the Past session at the Wanneroo Regional Museum on Wednesday 15 March, where children and parents can explore the past together through games, stories, crafts and real artefacts.
A Vietnamese food tour with celebrity chef Jenny Lam on Tuesday 21 March, where participants will learn about the essential ingredients for Vietnamese cooking that can be found at the local shops.
A colourful and interactive Balinese cultural program on Tuesday 21 March, where participants will experience a true taste of Balinese music, dance and visual arts and other cultural activities.
A series of It's All About Stories sessions at all City libraries to teach the City's youngest residents about Western Australia's cultural diversity.
The City is also supporting the Ashdale Primary School Harmony Week Twilight Picnic on Friday 24 March, through a community funding program grant.
More articles in the news archive.