Community Survey - Website User Testing Activity
Help us improve our website and go into the draw to win a $50 shopping voucher! Start the survey
Home
City calls on community to never bin a battery
Published Wednesday, 5th April 2023
The City of Wanneroo is calling on the community to safely dispose of batteries, after three City recycling trucks caught fire in just one month.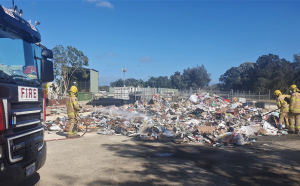 Wanneroo Mayor Linda Aitken said households incorrectly disposing of batteries was the most common cause of truck fires in the City.
"Since late February, we've had three waste trucks go up in flames caused by incorrectly binned batteries, with some particularly close calls in busy residential areas," she said.
"In these instances, it was thanks to the quick thinking of our Waste Operators and quick responses by emergency services that we were able to avoid these fires spreading.
"It's up to the whole community to do the right thing and help us make sure this doesn't happen again."
Fires in waste trucks not only pose dangers to Waste Operators, but can also damage the environment and City infrastructure, cause delays to waste collection schedules, and create costly clean-up jobs.
"It's an issue that can easily be avoided by keeping batteries out of your household bins, removing batteries from items such as children's toys before you dispose of them, and taking chargeable devices such as laptops to drop-off points for safe disposal," Mayor Aitken said.
Mindarie Regional Council CEO Scott Cairns said that it was a common misconception that batteries could be disposed of in kerbside bins.
"Batteries are actually classed as Household Hazardous Waste, meaning they can't be collected in standard kerbside waste or bulk waste collections," he said.
"Disposing of batteries correctly is as easy as dropping them off free of charge at your local supermarket, hardware store, office supply chain, or any of the many other drop-off points across Perth, including the Tamala Park waste disposal facility."
Safe battery storage is also important to ensure batteries remain stable and to reduce the risk of short-circuits. This includes:
storing batteries in their original packaging and reducing exposure to humidity and other environmental factors
storing batteries at room temperature, 25 degrees Celsius or below
never placing batteries in metal containers
never letting batteries get wet.
For more information about battery drop-off points, visit Recycle Right.
More articles in the news archive.