Home
Heritage spaces support neurodiverse audiences
Published Wednesday, 24th May 2023
Wanneroo Regional Museum now has sensory backpacks available for public use – just one of a series of new initiatives to welcome visitors of all abilities.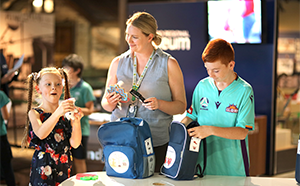 The sensory backpacks, which are also available at Cockman House and Buckingham House, were developed with the support of the City of Wanneroo's Disability, Access and Inclusion Reference Group and advice from the Spectrum Space Women's Council.
They contain fidgets linked to museum themes, a torch, magnifying glass, a visual checklist, scavenger hunt activity and visiting story, and have already proved popular with local school children.
The neurodiverse audience pilot program also includes online visual stories, a choice board and a sensory friendly map developed in collaboration with disability support provider Rocky Bay.
Mayor Linda Aitken said these initiatives helped to empower visitors to plan ahead and ensure a relaxing and enjoyable experience at the City's heritage spaces.
"We know that visiting a place for the first time can sometimes be daunting," she said.
"The visual stories available, for example, provide a reassuring guide of what to expect when visiting the museum and our heritage houses.
"This project is just one of the ways we are providing inclusive and accessible spaces for community members of all abilities."
APM Communities representative and National Disability Insurance Scheme Local Area Coordinator Partner Paige Wilson said she supported any initiative to welcome people from a neurodiverse background.
"The sensory backpack helps to create an experience that will allow individuals to engage in community activities," she said.
"APM Communities work closely with communities and local government to support initiatives such as this."
The City's Heritage team members also received training from Wanslea and Sensorium Theatre, which helped create a deeper understanding of the needs of people who are neurodiverse.
Wanneroo Regional Museum is a member of the Hidden Disabilities Sunflower Lanyard Scheme and team members wear the sunflower supporter lanyard.
Museum visitors can borrow sunflower lanyards – a discreet way of letting team members know if someone in your group has a hidden disability.
For more information, head to wanneroo.wa.gov.au/wannerooregionalmuseum
More articles in the news archive.