Home
Save our snake-necked turtles
Published Tuesday, 11th July 2023
The City has joined forces with Murdoch University and the South West Metropolitan Alliance to participate in the Saving our Snake-necked Turtle Project.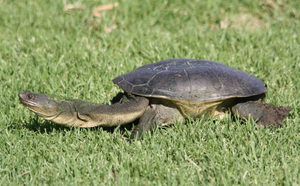 Many of the City's wetlands are home to populations of the Southwestern snake-necked turtle which are under threat by feral animals and native birds such as ravens, lack of suitable nesting habitat and road strikes.
The City is hosting an information night, where participants will learn about turtles and how to contribute to crucial citizen science by using the TurtleSAT app to become a 'Turtle Tracker' and protect females and their nests.
This session will help inform future management actions for snake-necked turtles.
Come along to the information night to find out more about the project and learn how you can help just by using your smartphone.
Details
6pm to 7pm, Monday 31 July 2023
Banksia Room, Wanneroo Civic Centre, 23 Dundebar Road WA
Register online via Eventbrite
More information on the Saving our Snake-necked Turtle Project is available on the Murdoch University website.
More articles in the news archive.