Home
Award-winning photographer to share joy of photography
Published Monday, 4th September 2023
Perth-based photographer and teacher Seng Mah sat down with the City of Wanneroo ahead off workshops he will host to tie in with A Portrait of Australia exhibition at Wanneroo Regional Gallery.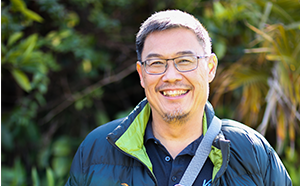 What are your photography workshops and seminars all about?
These sessions are aimed to inspire people to explore creative ways in which photography can be used, not just as a way of documenting life, but to tell meaningful stories and create art – regardless of whether they're using an expensive camera or a smart phone.
You can spend a lot of money on the top gear, but at the end of the day you can tell incredibly compelling stories through old black and white images, for example, which may not be fully sharp but they are still incredibly poignant.
You don't need to spend lots of time being obsessed with the technicalities like sharpness, depth of field and optimum exposure. These things are important, obviously, but having a picture laden with emotion really allows you to connect with people.
I think this is what the images in A Portrait of Australia is all about – giving us a tapestry of life unfolding across Australia.
You have a seminar exploring the joy of photography. Does photography spark joy for you?
When I'm photographing a scene, a subject or a moment that I'm really connected with, I can feel incredibly excited. Your heart is racing and everything stops existing except for what you're seeing in that moment. It almost happens in slow motion, kind of like bullet time in the Matrix film.
Whether it's just a fleeting emotion on someone's face or the apex of someone's movement, it's incredibly joyful because you know that you've achieved your vision and got the shot.
Also, being able to immerse myself in new locations and meet a whole range of people gives me a lot of pleasure as well.
Are you excited that A Portrait of Australia exhibition is coming to Wanneroo Regional Gallery?
I think that's incredibly exciting because what we are seeing in this exhibition is a mosaic of the different ways Australians live their lives.
It is a time capsule of where Australia is right now and anyone attending the exhibition will gain a better, deeper understanding of the multifaceted, multicultural and variety of life in Australia, from the iconic to perhaps the not so iconic.
The exhibition is going to be eye opening, touch the heart and enrich the soul!
A Portrait of Australia: Stories through the lens of Australian Geographic
30 August to 28 October, Wednesday to Saturday, 10am to 4pm
Wanneroo Regional Gallery, 3 Rocca Way, Wanneroo
Seng Mah's workshops and seminars
Saturday 9 September, 10.30am to 12pm – Colour, Composition and Creativity: Exploring the Joys of Photography seminar.
Saturday 23 September, 10.30am to 12.30pm – Depth of Field, Depth of Feeling workshop.
Saturday 7 October, 10.30am to 12.30pm – Landscapes and Lenscapes seminar and shoot.
More articles in the news archive.