Home
Residents have their say on beach fishing
Published Friday, 3rd November 2023
Aside from the WA Government's new shark fishing ban, there will be no changes to recreational fishing on City beaches, after recent community engagement identified a lack of support for restrictions.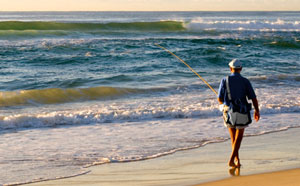 The engagement was prompted by a Motion on Notice brought to Council last year by the late Cr Baker, requesting that the City gauge the level of community support for restrictions on recreational fishing in areas where surf lifesaving activities are taking place.
City of Wanneroo Mayor Linda Aitken said more than 640 residents and beach users participated in an online survey, providing information on how and when they use City beaches and whether they thought there should be limitations on fishing activities.
"The survey showed that over 72 per cent of respondents didn't support bringing restrictions to our beaches," she said.
"Residents and beach users feel satisfied that responsible fishing practises and general respect and courtesy for one another supports harmonious fishing and lifesaving activities without the need for restrictions.
"This is clearly a topic our community feel very passionately about, and I want to thank everyone who took the time to have their say on this matter.
"We've listened to what our community has to say and have no plans to introduce restrictions on general recreational fishing."
The State Government's new shark fishing regulations aim to simplify the rules for Western Australian fishers.
Fishing for other popular species such as Tailor, Herring or Whiting will be unaffected by the new rules as wire trace is not required to catch these fish.
Find out more about the State Government's new shark fishing ban at wa.gov.au.
More articles in the news archive.