Home
Embrace the spirit of giving this Christmas
Published Thursday, 16th November 2023
Help locals doing it tough this Christmas by donating toys, non-perishable food and living essentials to the City of Wanneroo Mayor's Christmas Appeal.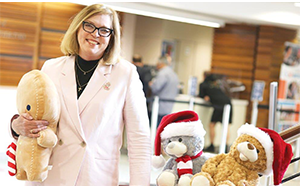 Until Sunday 26 November, you can drop donations in one of the Appeal bins at the Wanneroo Civic Centre and the City's libraries and community centres or at one of 48 participating locations within the City, including Kingsway Shopping Centre.
For over two decades, through the Appeal, the generosity of our community has helped hundreds of local people.
Mayor Linda Aitken encouraged people to support the Appeal if they had the means.
"Our caring community always digs deep to help those in need, but there is something extra special about giving at Christmas," she said.
"Donating during the festive season is a wonderful way to spread joy and help make the holidays brighter for others."
Donations will be packaged into hampers and distributed to local families experiencing hardship by local charity organisations and community groups.
For more information, including the full list of donation locations, visit wanneroo.wa.gov.au.
More articles in the news archive.