Home
Pick up your free 2024 Community Calendar
Published Monday, 20th November 2023
Visit your local library or the City's Civic Centre to pick up your free 2024 Community Calendar.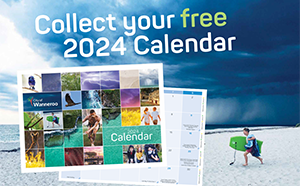 The theme of this year's Local Lens photography competition was 'Faces and Places of Wanneroo' and entrants were asked to put their unique spin on this theme.
We received some incredible shots – thank you to everyone who took part in our competition.
Congratulations to these talented winners, your stunning photos were chosen to feature in the 2024 calendar:
Sav Zwickl
Shane Taylor
Jen Fraser
Natalie Witherow
Dave Black
Iain Gilbert
Scott Moore
Jessie Lee Gibbs
Debra Edmonds
Soraya Kent
Ian Boulton
Daniel Pardini
John Angell
Chao (Andy) Yang
Mark Murgatroyd
Deborah Wheeler-Hildreth
The calendar contains essential information such as waste collection dates, animal registration details, school and public holidays and free community events.
The 2024 Community Calendar is now available for collection at the City's Civic Centre and Wanneroo, Clarkson, Girrawheen and Yanchep/Two Rocks libraries, as well as Wanneroo Aquamotion and Kingsway Indoor Stadium.
More articles in the news archive.