Total fire ban - Wednesday 8 December 2021
DFES has declared a 24 hour TOTAL FIRE BAN for the City of Wanneroo on Wednesday 8 December 2021. The Fire Danger Rating is forecast as EXTREME. Further information
Home
Yanchep Lagoon Master Plan drafted
Published Tuesday, 8th January 2019
A first draft of the Yanchep Lagoon Master Plan can now be viewed on the City of Wanneroo's website following a three day planning and design forum held in Yanchep late last year.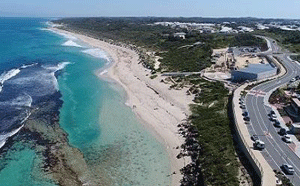 The Draft Plan encompasses the Yanchep Lagoon and surrounding areas including Mary Lindsay Homestead to the north and Fisherman's Hollow to the south.
Placemaking consultants RobertsDay developed the draft plan based on extensive feedback received throughout the forum from a range of stakeholders including local community members, planners, designers, transport advisors, property developers, and various State Government agencies.
City of Wanneroo Mayor Tracey Roberts encouraged the community to get involved and said that the comprehensive feedback received to date was thoughtful and sensitive to the natural beauty of the Lagoon.
"The Yanchep community are so passionate about their Lagoon," she said. "It was wonderful to see such a diverse group of enthusiastic, engaged people come together to discuss challenges and ideas for a vibrant, sustainable vision for the area that will provide opportunities for local residents and visitors to relax, re-energise and enjoy their surroundings."
Four key priorities for the area's future became clear throughout the forum: to keep it special, to keep it natural, to keep it local and to keep it simple.
"The draft Master Plan has so many great ideas and exciting elements including popup cafés, markets and retail spaces, carefully considered dune walking trails, improved beach access, a lookout jetty, large grassed areas with shelter and BBQ facilities and a coastal boardwalk that covers the length of the area," Mayor Roberts said.
Forum outcomes and the Final Master Plan are expected to be reported to Council at the 5 March 2019 meeting.
The draft vision and master plan, survey results and the planning and design forum outcomes can be viewed on the City's website at wanneroo.wa.gov.au/yancheplagoon.
More articles in the news archive.