COVID-19 recovery information and updates
The City of Wanneroo is reopening a number of community services and facilities in line with Phase 3 of the State Government's COVID-19 Roadmap to Recovery. Click here to find out more
Home
Free Hazardous Waste Collection Day - 1 June 2019
Published Tuesday, 28th May 2019
The City of Wanneroo is holding a free Household Hazardous Waste Collection Day this Saturday, 1 June 2019.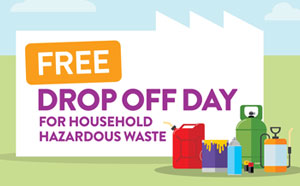 Residents can safely dispose of unwanted household chemicals and hazardous materials for free at Ashby Operations Centre between 9am and 1pm.
City of Wanneroo Mayor Tracey Roberts said there are a number of hazardous items that must NOT go in general waste or recycling bins.
"I urge the community to make use of this free opportunity," Mayor Roberts said. "It is surprising how many household items are actually hazardous, which is why it is so important they are disposed of correctly."
Only domestic waste will be accepted with a limit of 20kg or litres per material type.
Materials accepted include:
Acids and alkalis
Aerosols
Batteries (household)
Engine coolants and glycols
Fire extinguishers - Non halon (red) only
Flammables
Flares
Fluorescent lamps and tubes (CLFs)
Gas cylinders (small household)
Household chemicals (e.g. cleaners)
Paint
Pesticides/herbicides
Poisons/toxics
Pool chemicals
Smoke detectors
Unknown chemicals must be in sealed, chemical resistant containers.
Materials not accepted include:
Asbestos
Commercial and industrial waste
Electronic waste
EPIRBs and PLBs
Explosives, ammunition and firearms
Fire extinguishers - Halon (yellow)
Medications and pharmaceuticals
Mobile phones
Motor oil and cooking oil
Printer cartridges/toners
Sharps and needles
Tyres.
Ashby Operations Centre is located at 1204 Wanneroo Road, Ashby.
If residents cannot attend this event, they can take their hazardous household waste toTamala Park Waste Management Facility or Recycling Centre Balcatta seven days a week.
For more information, visit: wastenet.net.au/hhw.
More articles in the news archive.