2021 Local Government Election Results
The Western Australian Electoral Commission (WAEC) has announced the results of the 2021 Local Government Election for the City of Wanneroo. View the results
Home
Wangara Smart City Technology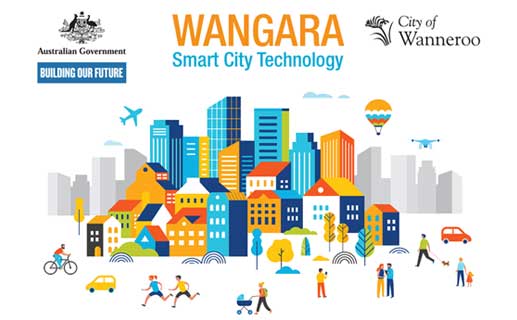 Have your say on new CCTV cameras in Wangara
As part of the Australian Government's Community Development Grants program, the City of Wanneroo has received funding to increase CCTV infrastructure in the Wangara Industrial Area. Benefits include:
Prior to installation of the CCTV cameras, the City will engage with the Wanneroo Business Association and local Police and residents to raise awareness on the project and to seek feedback on the most suitable camera locations.
Feedback invited
You are invited to provide feedback on the project to ensure the proposed design meets the requirements of the local businesses and community.

Launch survey for local businesses
The consultation period is now open and closes on 31 December 2020.
Background
The City of Wanneroo is working towards becoming a 'Smart City'.
The new technology made available through the Australian Government's Community Grants program will allow us to better understand the dynamics of the Wangara Industrial Estate.
This will enable the City to make more informed decisions to support the future of all local businesses.
The Wangara Industrial Estate provides diverse retail opportunities and this project is vital to help us strengthen security across the estate in order to better support current and future businesses.
Here are some ways you can get involved and have your say.
Opportunities to have a say
The City's Your Say community engagement hub
Business Survey (online version available through Your Say)
Direct comment to the project team.

Key Dates
Community consultation period
Now open

Date: 15/11/2020
Request for quote
Design Period under way

Date: 30/11/2020
Evaluation of consultation and revised design
January to March 2021

Date: 31/03/2021
EOI and Tender for construction
March 2021

Date: 27/12/2020
Development Approval submission
January 2021

Date: 31/01/2021
Finalise design
June 2021

Date: 01/07/2021
Community update on project scope and timing
June 2021

Date: 30/06/2021
Target construction start date
July 2021

Date: 01/08/2021
Target construction completion date
December 2021

Date: 31/12/2021
Subscribe to this project
Subscribe to receive updates on Wangara Smart City Technology
Subscribe to City news
Subscribe to receive City news including updates on projects.
Project contact
Name: Beth Weston, Community Safety Officer Telephone: 9405 5000