Home
Girrawheen Senior High School Student wins City sponsored scholarship
Published Thursday, 13th February 2020
Year 11 Girrawheen Senior High School student Kyan Burt has been named as the latest Young Australia League (YAL) and City of Wanneroo Upper Secondary Scholarship recipient.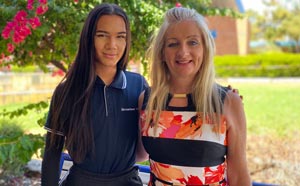 The YAL scholarship enables secondary and tertiary level students experiencing disadvantage to continue studying and succeed in their education. YAL recognises that disadvantage comes in many forms; from social and economic disadvantage, geographical isolation, financial disadvantage, to challenges with disabilities and family difficulties that can result in young people struggling at school or university. Kyan is eligible to receive payments totalling up to $6,000, paid over a two year period.
City of Wanneroo Mayor Tracey Roberts said Kyan Burt is an inspiration to fellow students and shows compassion as a team player, who cares for the welfare of his peers.
"Students like Kyan, who face adversity in life but choose to overcome those challenges, are true young leaders, who display determination to succeed, and I congratulate Kyan for receiving the Young Australia League Scholarship, and YAL for its support of students," Mayor Roberts said.
"I wish Kyan well for his senior school studies and am confident he will achieve his education goals at Girrawheen Senior High School and beyond, given his strength and resilience."
Extract from Kyan Burt's biography:
YAL describes Kyan as a self-motivated, positive light who respects others, is reliable and empowers his peers and community by promoting self-confidence and to be tolerant of others. From an early age, he was teased and bullied for having 'feminine' characteristics. However now, with the support of his peers, family and teachers, he is openly gay and extremely proud of who he is. He even became a role model to others showing how to avoid letting people define you and that from the depths of adversity, a new day will rise that brings with it hope, turning negativity into resilience
YAL says Kyan sees education as the cornerstone to changing the direction in which his life is going. He works hard to maintain high grades and has dedicated himself to maintain a high standard no matter how difficult to achieve.
Having limited resources at home, he relies on the local library to get his homework and extra study completed. This very often leads to a long walk (over a kilometre) home in the dark after the library closes. He hopes to go on to further studies after he finishes school and has nominated to undertake a certificate II in Business in 2020 as a starting point to achieving this dream.
YAL background:
YAL was founded in 1905 by prominent WA businessman and politician, John Joseph (J.J.) "Boss" Simons, and the scholarships are funded through the charitable endowment trust created by the YAL board in 2014. Over the past five years YAL has partnered with a number of corporate groups and private donors that have allowed the expansion of the scholarship program. The YAL scholarship program has supported 40 young recipients. The combined value of funds distributed through the scholarships is just over $350,000.
More articles in the news archive.