Home
Revive during your drive – Stay safe on the roads this long weekend
Published Friday, 1st March 2019
City of Wanneroo drivers are being urged to stay safe on the roads this long weekend and take regular breaks to avoid driving tired.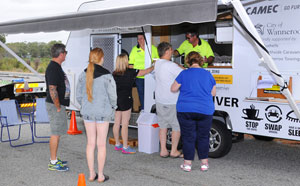 Roadwise Driver Reviver volunteers will be on hand to offer motorists on Indian Ocean Drive a cuppa and a biscuit before they continue on with their journey home.
Mayor Tracey Roberts said she hoped people would put safety ahead of saving time.
"Long weekends are always a busy time on our roads, particularly on Indian Ocean Drive, so it is important that drivers take regular breaks on long trips," Mayor Roberts said.
"Driving tired reduces concentration and slows down reflexes, putting drivers, passengers and other road users at risk. It's just not worth it. So, please, stay safe, take regular breaks, and always drive responsibly."
The Roadwise Driver Reviver van will be located on Indian Ocean Drive, near Acacia Road on Monday 4 March.
More articles in the news archive.