Get On Board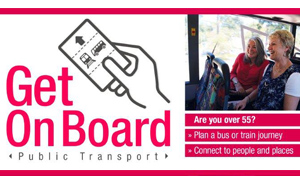 The City of Wanneroo, in partnership with the Public Transport Authority and the Cities of Joondalup and Stirling, is implementing a smart travel program called Get on Board.
Get On Board supports people over the age of 55 to plan and execute a travel journey using Perth's public transport with the guidance of an experienced volunteer.
The program will help participants increase their knowledge and confidence in accessing public transport, and offers the chance to connect with services, activities, friends and family.
Why not register with a friend?
For more information, please email Louise Giles or phone 9405 5600.
A free Smart Travel card will be issued for the duration of the project.
The Get On Board initiative is funded through the Department of Communities' Age-Friendly Communities Innovation and Implementation Grants Program.