360L Bin FAQs

Property owners were given the opportunity to upgrade to a larger 360L recycling bin for free between April and June 2020 in an effort to help reduce the amount of waste that is sent to landfill.
Detailed below is a list of FAQs about changes to the City's waste services and the upcoming introduction of a three-bin kerbside collection system.
Residents currently have two bins – a dark green lid general waste bin and a yellow lid recycling bin. Property owners were given the choice to upgrade to a bigger 360L recycling bin to increase the amount they recycle, and reduce what goes to landfill.
Selection for the first round of deliveries of a 360L recycling bin is now closed. The intention is to deliver these bins from October 2020.
When will I receive my larger yellow lid recycling bin?
Delivery of the new 360L yellow lid recycling bins will commence in October 2020 and is expected to take around 8-10 weeks to complete due to the large number of residences who opted-in.
Residents will be required to place their old recycling bin on the kerb/verge from 6am to 6pm on their regular collection day from October 2020. Further information on the delivery process will be shared closer to the time.
Why are larger recycling bins being offered?
A larger recycling bin will allow households to make better choices about recycling and waste disposal, and in turn reduce waste to landfill.
Why does the City not empty recycling bins weekly?
Recycling bins are emptied fortnightly as this is the most cost effective solution for an area as large as the City of Wanneroo. Our recycling trucks cover every suburb in the City and rotate on a fortnightly schedule. By providing residents who require more capacity with a larger 360L recycling bin, we can recover more resources while maintaining our operational costs.
What should I be putting in each bin?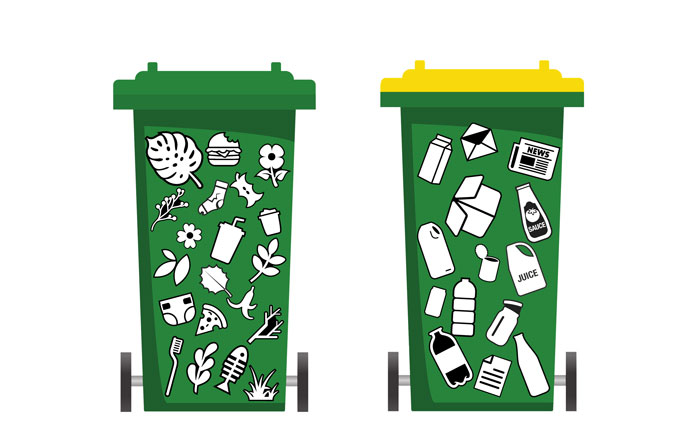 Yellow lid bin - recycling: Recyclable packaging materials such as clean paper (not shredded), flattened cardboard, clean aluminium and steel cans, glass, and plastic bottles and containers with the lids off. (Please place plastic lids in the general waste bin, or save to donate to programs that accept these.)
Green lid - general waste: Food organics such as food waste, fruit and vegetable scraps, as well as general rubbish items including animal waste, nappies, wipes, hygiene products, tissues and paper towels, meat trays, bottle lids, bagged shredded paper and soiled paper products.
How can I register for a larger recycling bin?
Property owners and managers were invited to register for a larger 360L recycling bin between April and June 2020. If you missed the cut-off date to register, there may be other opportunities in the future.
If you are building a new home that has not previously received a waste service, simply complete the Request a New Bin online form.
Will having a larger recycling bin mean I have to pay more for waste?
All of the City's costs to deliver waste management services to residents are included in the Waste Service Charge which is separate from general Rates. This means residents can see exactly what it costs for waste services.
Residents will incur no increases to waste service charges due to the bin size they choose. Bin size options are provided to enable residents to choose the size combination that best meets their home waste management needs.
Costs associated with the implementation of the larger recycling bin are covered via the Stage Government of Western Australia Better Bins program (administered by the Waste Authority) and cost savings acquired through greater material diversion from landfill.
Will I still get a bulk greens verge collection and vouchers for the Wangara Greens Recycling Facility?
Yes. Bulk greens verge collections and tip vouchers for Wangara Greens Recycling Facility will continue as usual.
What about if I live in a group dwelling, like an apartment block, units or duplex?
Group dwelling properties, such as an apartment block, units or duplex, managed by an owner corporation, body corporate or strata have had the same opportunity to upgrade to a 360L recycling bin.
If you are a tenant, your landlord or property manager will be able to inform you what requests were made for your dwelling.
I have changed my mind and now I want a larger/smaller bin, can I change my selection?
Registrations submitted via the City of Wanneroo website before the Sunday 7 June 2020 cut-off cannot be amended or updated at this time.
Property owners may have another opportunity to change their recycling bin size in the future. The City will provide further information if and when it is made available.
I missed the cut off and want a larger bin, what can I do?
If you were unable to register for a 360L recycling bin before Sunday 7 June 2020, you will need to wait until another opportunity is offered in the future. The City will provide further information on this closer to the time.
What happens if I didn't make a selection?
Any property without a selected bin choice will keep their existing 240L recycling bin.
What is the update on the third bin?
The City is exploring options available for the processing of organic material to be collected by the third bin. Once this assessment is completed, further information will be communicated to residents.