Sustainability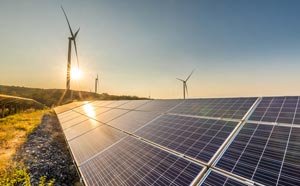 The City aspires to ensure a healthy and sustainable natural and built environment and this is a reflection of the City of Wanneroo Strategic Community Plan 2017/18 – 2026/27. This community vision has been reflected in the City's Corporate Business Plan and have resulted in development of the following documents:
Waterwise Council Action Plan
Multiple definitions of sustainability exist and can be interpreted differently by different people. What is important to note, is that sustainability affects and should become a part of every aspect of the professional and personal life of everyone.
Climate change
Council has adopted a Climate Change Adaptation and Mitigation Strategy that guides the City in implementing adaption actions in response to Climate Change. These actions will minimise the risk to the community from increasing temperature, reduced rainfall, extreme weather events, coastal storm surges and other climate related risks.
Climate Change Adaption and Mitigation Strategy
How to reduce the impacts of climate change
Reduce energy use
Reduce water use
Reduce amount of waste generated
Purchase local and sustainably sourced/produced products
Purchase 'green' energy and water efficient products and appliances
Grow your own food
Support local businesses
Retain and plant trees to increase green canopy providing habitat for wildlife and cooling effect
Divest from fossil fuels
Install solar panels
Consider solar passive and sustainability design principles when building a house
Energy
The City has developed an Energy Reduction Plan (ERP) which is currently being implemented. The ERP is a product of the Climate Change Adaption and Mitigation Strategy that has been driven by previous strategic community plans.
How to reduce energy use (electricity/gas) use and associated emissions
Reduce the need for auxiliary heating or cooling through passive design when designing and building your new house.
Use ceiling fans, cross ventilation, plant a deciduous tree/s or install a removable shade sail to increase shading.
Paint surfaces such as roofs, building facades and pavements with light and highly solar reflective paints and treatments.
Set air conditioner at 24-26°C in summer and your heater at 18°C in winter.
Adjust fridge thermostat to 4°C and freezer to -18 °C.
Set/reduce thermostat value on hot water units, reduce shower time, consider installing a solar hot water system or a heat pump hot water system.
Ensure you have a full load when using dish and clothes washers.
Consider if you do need to purchase/use a dryer. The sun can dry your clothes and is considered a 'natural sanitizer'.
Turn off lights when not needed.
Replace inefficient light globes with efficient ones, such as LED type.
Look at the energy rating when purchasing electrical equipment and appliances (the more stars the better).
How to reduce energy and emissions from transport
Drive less - Walk, cycle, use public transport, car-pool.
Drive smoother - Plan your route and timing to avoid start-stop and congested traffic, select right gear, don't accelerate too fast.
Avoid idling - Turn your car off while waiting in pick-up/ drop-off zones.
Keep tyres inflated to a correct level - Deflated tyres increase drag and reduce fuel efficiency, also make sure alignment is correct.
Maintain vehicle in good working order - Ensure vehicle is serviced regularly and is in good condition.
Upgrade to a more fuel-efficient vehicle - Go electric, hybrid or a vehicle with good fuel economy and low CO2 emissions.
Other helpful resources
Water
Rainfall in WA has been declining since the 1970s, which means we have to work together to reduce water use and reuse water.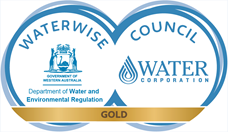 The City of Wanneroo is participating in the Waterwise Council Program and has developed a Waterwise Council Action Plan endorsed by council in September 2019. The City submitted its application in October 2019 and worked on getting the Aquamotion accredited as a Waterwise Aquatic Centre as one of the criteria for the Gold status. In January 2020 the Aquamotion was accredited as a Waterwise Aquatic Centre, which in February 2020 allowed the City to be endorsed and recognised as a Gold Waterwise Council for 2020.
Urban Water Management Local Planning Policy
The City has also produced the Draft Revised Local Planning Policy 4.4: Urban Water Management which ensures structure plans, subdivisions and development applications within the City of Wanneroo optimise the use and management of water resources including rainwater, stormwater, groundwater, drinking water and wastewater.
How to reduce water use at home
A greywater system can help you save water by irrigating your garden with water from the bath, shower, washing machine, and laundry trough. Some systems are also approved to use water from kitchen sink. Installation of a greywater system in your home requires approval by the City and there are legislative requirements you need to be aware of.
Follow the simple steps to installing a domestic greywater system:
Limit your shower time to 4 minutes.
Install water efficient showerheads.
Install flow restrictors/ efficient taps.
Install dual flush toilets.
Look out for and fix water leaks.
Install rainwater tanks for watering the garden.
Install rainwater tanks to offset scheme water use in the house (toilet flushing or laundry).
Plant native and waterwise plants (https://www.watercorporation.com.au/save-water/waterwise-plants-search).
Reduce lawn areas/ replace with native/waterwise ground covers.
Apply mulch to reduce evaporation (can assist with suppressing weeds).
Follow your watering day roster and do not water during sprinkler bans (https://www.watercorporation.com.au/save-water/watering-days).
Ensure your watering system is efficient and free from leaks.
Look at the water efficiency rating when purchasing toilet and bathroom fixtures (the more stars the better).
Other helpful resources
Waste and Recycling
The City of Wanneroo is focussed on facilitating an approach to effective and efficient waste management solutions. The City strives to minimise waste to landfill by providing opportunities for the community to reduce their personal waste generation and keep recyclable material out of landfill.
How to reduce waste at home
Limit your use of single-use items and choose those which can be used again.
Choose products that come with minimal packaging
Put a No Junk Mail sticker on your letterbox
Choose to reuse by buying second-hand
When building or renovating, consider your design and opt for recycled materials.
Check wanneroo.wa.gov.au/wasteatoz for a comprehensive list of how to dispose of your unwanted items responsibly
Compost your organic waste
Other helpful resources