Education/Workshops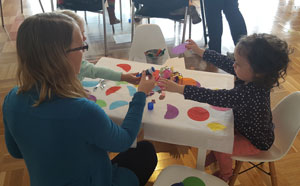 One of the aims of the Wanneroo Gallery is to offer an exciting and informative array of education programs and workshops to accompany their exhibitions.
We hope to inspire and nurture creativity on all levels and appeal to all ages. Workshops are tailored made to compliment the exhibition content and can be adapted to suit individual and different group's needs.
Curator floor talks, tours, school holiday programs and educational resources are developed in conjunction with all suitable exhibitions.
We All Sleep Education Resource
Click below to download teaching notes relevant to the We All Sleep exhibition
Tracey Moffatt Education Resource
Click below to download an education kit that can be used to support the touring exhibition Montages: The Full Cut, 1999 - 2016 by Tracey Moffatt and Gary Hillberg.