Advocacy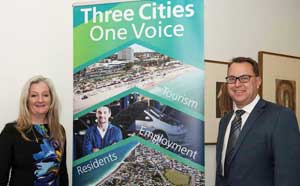 The City of Wanneroo is a strong advocate in the interests of our community. Council has adopted four advocacy priorities:
Roads: delivery of major regional road transport infrastructure;
Rail: expansion of the northern suburbs rail network;
Reserves: active regional open space – reservation, land acquisition and development; and
Region: collaborative planning for major regional economic growth and in 2016 Agribusiness was added as a regional priority by Council.
The challenges of growth in the City and broader region highlight the need for collaboration and partnerships to develop on these community identified priorities.
What is Advocacy?
The City defines advocacy as a proactive, whole of community, strategic approach aiming to influence decisions within State and Federal political spheres and government agencies, in a way that recognises and prioritises the needs of our local community.
The City's Advocacy Plan ensures that advocacy for major infrastructure projects is coordinated, collaborative, effective and maximises the potential for these projects to attract Federal and State Government funding.
The Current Environment
The current needs of the City were revealed during the extensive public consultation completed as part of the City's Strategic Community Plan review, when residents identified the need to:
Match infrastructure provision with growth;
Generate more local jobs;
Improve public transport;
Facilitate community connectedness;
Increase sport and recreation opportunities; and
Reduce traffic