Home
Small business scholarships stoke the flames of success
Published Monday, 18th November 2019
Through its work with Curtin University's Ignition scholarships program, the City of Wanneroo is honouring the adage that from little things, big things grow.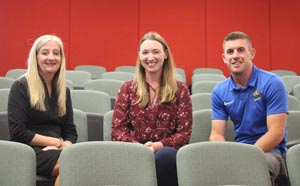 The City of Wanneroo has worked with Curtin University since 2016, providing Ignition scholarships to two local businesses or residents each year which Wanneroo Mayor Tracey Roberts said demonstrated the City's commitment to nurturing local businesses and start-ups.
"Our local business community provides local employment, encourages strong and vibrant places and builds our economy," Mayor Roberts said
"Businesses with high growth potential are an essential part of growing the City of Wanneroo community.
"With significant population growth forecast over the next two decades, it is imperative the City supports new ideas and entrepreneurs who will generate employment opportunities for our residents, both now and into the future."
In 2019, the two Curtin Ignition scholarship recipients were GreenStalk CEO and Founder Amy Ryan, and Target Sports CEO Josh Whitmore.
A local business strategy company that provides tailored growth solutions for businesses, Wanneroo-based GreenStalk was founded earlier this year by Ms Ryan after she faced several roadblocks when running her own small business. The Curtin Ignition program, Ms Ryan said, validated the need for GreenStalk's services and business model.
"The driver behind the program is innovation, and the cohort shares a passion for enacting change with their respective ideas and businesses – it really creates an inspiring atmosphere," Ms Ryan said.
The Ignition experience allowed Ms Ryan to workshop and test GreenStalk's business model with like-minded professionals, as well as develop valuable business contacts.
"It was extremely encouraging to pitch GreenStalk to a wide range of high profile business owners and academics and to receive such positive feedback," she said.
Similarly, Mr Whitmore said Curtin Ignition allowed Target Sports, an all-ability afterschool and weekend soccer program for children which operates out of Alkimos, to focus on researching the needs of its customers and tailoring their program to effectively address them.
"With the support and advice we received, we were able to create a program that would meet the needs of our customers and reach players nationwide," he said.
In addition to its work with Curtin Ignition, Mayor Roberts said the City of Wanneroo was proud to lend its support to the Small Business Development Corporation WA's Small Change campaign, which highlighted the importance of supporting local small businesses across the board.
"Small businesses are at the heart of the City of Wanneroo, stretching all the way back to our roots as Perth's 'food bowl'," Mayor Roberts said.
"Along with emerging businesses and a range of products and services available, market gardens and food production continue to be a vital part of the local economy to this day. Some 17.5 per cent of Western Australia's vegetable production and processing occurs right here in the City of Wanneroo."
"Through our work with the Wanneroo Business Association, The Hybrid co-working space at Enterprise House and other stakeholders, we're also giving local entrepreneurs the support they need to thrive in a community-driven shared workspace."
Ms Ryan, through her work with GreenStalk, is keenly aware of the pivotal role small businesses have on the economy.
"They create jobs for locals, support other local businesses and really help shape the identity of a community, which in turn supports economic and social growth to the area," she said.
For more information on how the City of Wanneroo supports small businesses, visit www.wanneroo.wa.gov.au/business, email: economic@wanneroo.wa.gov.au or call the Advocacy and Economic Development team on 9405 5000.
For more information on each of the Curtin Ignition recipients, visit www.greenstalk.com.au and www.targetsports.com.au.
More articles in the news archive.