Home
Wanneroo business leaps to reinvent itself during COVID-19 restrictions
Published Thursday, 21st May 2020
The City of Wanneroo's #SupportWannerooLocal campaign continues to shine a spotlight on local businesses that have successfully reinvented themselves in the face of a crisis.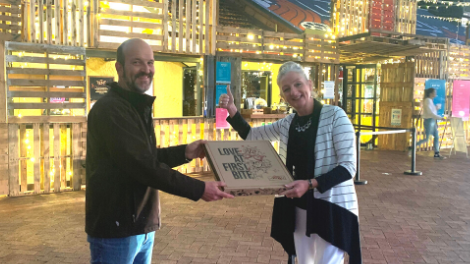 In April, the City of Wanneroo launched a new social media campaign 'Support Wanneroo Local' as a way to promote local businesses that have kept their doors opened and their people employed.
From local restaurants to tourism wholesalers and greengrocers, the campaign has spanned the City in search of local businesses that embody the Wanneroo entrepreneurial spirit.
A prime example is Wanneroo eatery Leapfrogs, which was forced to close on 23 March, when government restrictions required seated venues to close and permitted takeaway only.
On 26 March, the restaurant held a free meal drive-thru to help those in the local community struggling in light of the economic impact of COVID-19, giving away almost 200 meals.
Less than a month later, Leapfrogs launched online ordering and a new 'drive-in and takeaway' service.
Dubbed the 'carpark kitchen', this unique offering has helped keep the fairy lights on at Leapfrogs at a time of great uncertainty.
Business Development Manager Eli Barlow said the business could not have done it without the support of the community or the City's assistance.
"We are so grateful for the amazing local business support provided by the City of Wanneroo during this time," Mr Barlow said.
"The #SupportWannerooLocal initiative is a fantastic way to help promote local businesses to push through amid truly difficult circumstances – it might be hard to understand how challenging this period of time has been; not just financially but operationally, culturally and emotionally.
"The love, support and kind words we have received from our local community have kept us going – it has been a lot of fun relaunching Leapfrogs and seeing our local friends and family 'drive-in' and show their support. This is something we will remember and cherish forever."
Wanneroo Mayor Tracey Roberts said it was wonderful to witness the relaunch of Leapfrogs.
"This family-owned business has found innovative ways to adapt its operations and should be seen as a beacon of hope for other small and medium businesses," Mayor Roberts said.
"As we enter 'phase two' of the recovery program and restrictions begin to ease, the City will continue to do everything it can to continue to assist and support local businesses.
"I am also calling on our community members to support their favourite local cafes, restaurants, shops and other operators and help them keep local staff employed at a time when many people are struggling financially."
The #SupportWannerooLocal campaign is continuing, and the City will profile more local businesses in the coming weeks on its Facebook page: www.facebook.com/cityofwanneroo
More articles in the news archive.