Home
City of Wanneroo residents set to recognise Anzac Day
Published Wednesday, 20th April 2022
Anzac Day services and ceremonies will be held across the City of Wanneroo on Monday 25 April 2022, and members of the public are welcome to attend a service to pay their respects.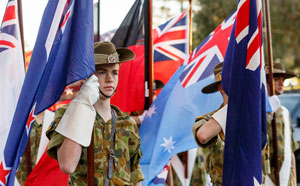 Two major services to honour Australian and New Zealand service men and women will be held in the City; Wanneroo RSL and Yanchep and Two Rocks RSL will both host a dawn service, gunfire breakfast and a march.
Wanneroo Deputy Mayor Brett Treby said it was important to honour those who served Australia in World War 1 and conflicts that followed.
"Anzac Day plays an integral part in Wanneroo's history and it's important we reflect on the sacrifices service men and women have made and continue to make," he said.
"This year's commemorations are even more special, as it's the first time in two years that Australians have been able to attend Anzac Day services at home and overseas."
2022 Anzac Day Services (events are subject to change - please contact individual organisations for further details).
Wanneroo RSL

Memorial Park, Civic Drive, Wanneroo
5.45am: Dawn service and gunfire breakfast followed by parade

Yanchep and Two Rocks RSL

Splendid Park Pavilion, Yanchep
5.00am: Gates Open
5.45am: Welcome
6.00am: RAAF Fly-Pass
6.50am: Gunfire Breakfast
Yanchep National Park
10.30am: March and service
More articles in the news archive.