Home
Electronic waste collection day in the City of Wanneroo
Published Thursday, 27th July 2017
Electronic waste or e-waste is one of the fastest growing waste streams in Australia.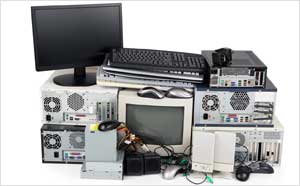 Cardboard or polystyrene packaging that requires disposal can also be dropped off (no meat trays, cups or beads).
Items that WILL be accepted
Computers
Monitors
Notebooks
Printers
Fax machines
Scanners
Desktop sized printers
CD drives
Computer hard drives
TVs
VCR players
Projectors
Overhead projectors
Networking equipment
Computer cables
Computer keyboards
Computer mice
Floppy discs
Printer cartridges
Electronic games / toys
DVD players
Stereos
Cameras
Video cameras
Ipods
CDs and DVDs
Items that WILL NOT be accepted
Whitegoods, vacuum cleaners, microwaves and other kitchen and household appliances
Non-computer batteries
Fluorescent lighting tubes
Any contaminated equipment or other hazardous waste e.g. UPS units, overhead projectors, cathode ray tubes (CRTs) out of casing (cracked or broken)
Mobile phones and accessories
Mobile phones can be taken to the City of Wanneroo Library, 3 Rocca Way, Wanneroo or a Mobile Muster drop off point.
Visit www.mobilemuster.com.au to find your nearest location.
Items that are not accepted can also be taken to Tamala Park, free of charge, seven days a week.
More articles in the news archive.