Upcoming Exhibitions
Let Me Be Myself - The Life Story of Anne Frank exhibition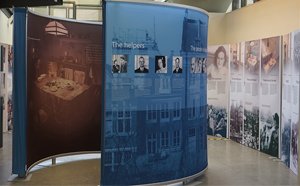 When
10 November 2017 to 22 December 2017. Monday to Saturday 10am to 4pm.
Where
WLCC Gallery
Cost
FREE
"Let Me Be Myself" contains seven historical modules. The structure and design of this part of the new exhibition enables visitors to identify with the personal story of Anne Frank.
Large-size pictures show Anne's happy early childhood in Frankfurt, followed by the immigration to Amsterdam and the time in hiding.
In a consequent manner the exhibition connects the personal story of the Frank family with the important historical events of that time: the rise of the national socialists, the isolation and discrimination of the Jewish population, eventually escalating in the Holocaust. The connection between the personal story of Anne Frank and the historical context shows the consequences the anti-Jewish measures had on one particular person.
To emphasise the chronological order of events, almost every panel contains a time line.
Below the time line is the personal story of Anne Frank and above the time line the visitor is confronted with the 'big historical events' of that time. In this manner it is easy to understand the connections between the 'small' and 'big' history.
Photo collection of the Anne Frank Stichting. (Amsterdam).