Upcoming Exhibitions
Find Your Treasure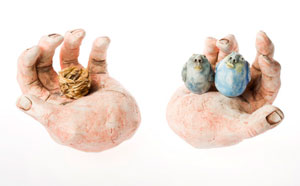 Image: Amanda Shelsher, 'Nurture', bone china, acquired 2004, City of Wanneroo Art Collection.
When:
25 August - 6 October, 2018
Where:
Wanneroo Library and Cultural Centre Gallery, 3 Rocca Way, Wanneroo
Cost:
FREE
At the heart of finding your treasure is the act of discovery.
Expanding upon the theme of the 2018 Children's Book Week, the Find Your Treasure exhibition explores and shares treasures of the Wanneroo region.
A treasure may be something or somewhere you value highly, a very valuable or precious object, a much loved person, to things you keep carefully. From pirate ships and ship wrecks to heritage houses, significant people and important sites, gems from the Art, Museum and Community History Collections, archaeology and beachcombing, the region is mapped.
Stories are the real treasure. Discovering your favourite theme and book and genre is like finding a jewel.
What's your treasure?
Contribute to the exhibition through the Program for Schools and engagement program.