Staying Connected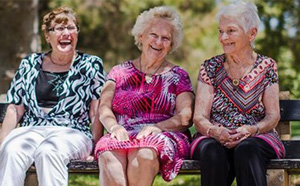 Ways to stay connected
Maintaining connections to family, friends and community as you age is vital to remaining mentally and physically well. Fortunately, there are lots of ways to stay connected at the City of Wanneroo. Here are a few ideas to help.
Senior citizen clubs
There are several senior citizen clubs located within the City of Wanneroo that provide opportunities for seniors to connect with like-minded people and make new friends. Find out more about these clubs on our Seniors Activity and Events page.
Libraries
Rediscover the joy of reading, learn new skills or just relax at one of the four libraries located within the City. These include the Wanneroo, Clarkson, Girrawheen, and Yanchep/Two Rocks libraries.
Exercise
Most of our local gyms, fitness clubs and aquatic centres offer classes for seniors. The exercise is good for your physical health, and the group bonding and cuppa afterwards may be just as valuable.
For more information please click below:
Events
Attending performances and events is a great way to meet people. From live performances to guided walks, film, and arts festivals many events have free or discounted tickets for seniors.
For more information about local events happening near you, please click below:
Hobbies
Thinking about revisiting an old interest or taking up a new hobby? There is a wide range of craft, technology, music, art, and collectors' clubs, plus lots more located within the City. To find seniors' special interest groups in the City, please visit the City's community directory by clicking below:
Courses
We are never too old to learn! Community classes are a great way to meet new people with similar interests. Learn to cook, paint, or speak a new language. You never know what you can do until you try.
A quick internet search or help from a community librarian may help you discover courses available in your local community.
Any life change can be an unsettling time and can bring about uncertainty, which may impact your mental wellbeing. Remember to Act Belong Commit (ABC) to support your mental health.
For more information about the program, contact the City's Community Development Team on 9405 5600.