Halesworth Park set to serve as centre for northern suburbs sports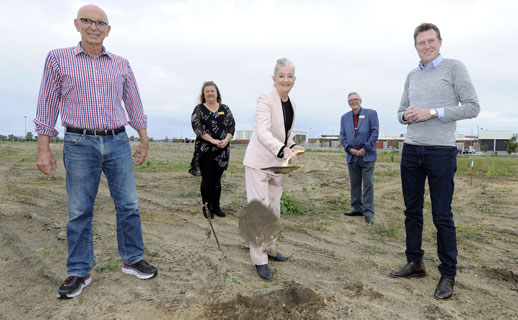 The City of Wanneroo has allocated nearly $11 million in its 2020/21 budget for major construction works at the site of Halesworth Park in Butler.
Formerly known as Butler North District Open Space, Halesworth Park is set to become a central venue for a range of local sports clubs and codes upon completion.
Situated on Halesworth Parade next to John Butler Primary College, the sports and recreation complex will include two floodlit multipurpose turf playing ovals, 16 multi-use hardcourts and adjacent amenities building, cricket nets, a sports pavilion with change rooms, a dual-use running track, picnic facilities and a childrens' play area.
"When complete, Halesworth Park will serve as a focal point for local sport and recreation in our City's northern corridor, with a range of sporting codes expected to utilise the facilities, from rugby, football and soccer to netball, baseball, cricket, athletics and lacrosse," Wanneroo Mayor Tracey Roberts said.
The City of Wanneroo expects work to be delivered in two stages, with the southern oval scheduled for completion in December 2020, in readiness for the start of the new school year. The northern oval is slated for March 2021, to coincide with the start of term two.
Both sports amenities buildings are on track for completion by July 2021, with the surrounding infrastructure to follow by September 2022.
The City of Wanneroo has received commitments of $5 million from the Federal Government and $2 million from the State Government's Department of Local Government, Sport and Cultural Industries towards completion of the project, as well as contributions of $1.2 million and $980,000 from LWP Property Group and the Department of Education respectively.
For the latest information on Halesworth Park, visit the regularly updated project page by clicking below.
In addition to Halesworth Park, grassroots sports will receive a further boost following the completion of a new community facility at Leatherback Park in Alkimos.
Funded in partnership with the State Government, the $1.7 million facility will feature a multipurpose room, two change rooms, kiosk, first-aid room, umpire room and public toilets.
"The City's planned capital works projects provide important community benefits both now and into the future," Mayor Roberts said.