Pristine parks and playgrounds a top priority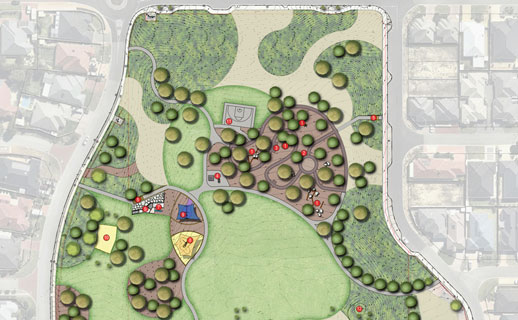 The upkeep and refurbishment of local parks and playgrounds forms a key facet of the City of Wanneroo's 20/21 budget, which was endorsed by Council earlier this week.
More than $4.9 million will be spent on parks and playgrounds across the City of Wanneroo, including the installation of new security lighting at San Teodoro Park in Sinagra, new shade shelters at Hudson Park in Girrawheen, and passive park upgrades across the Central Ward at Frederick Duffy Park and Jindinga Park.
With construction on the $1.3 million project starting in October, Hinckley Park – located between Hinckley Parkway and Copenhagen Drive in Hocking – will include nature play areas, a children's bike circuit, a basketball court, rock wall, playground, barbeque facilities and picnic shelters.
Wanneroo Mayor Tracey Roberts said it was an exciting project that would align with the Hocking community's expectations.
"Presently there are no amenities on the site other than a small playground, the City is proud to have developed this concept plan for a park that can be enjoyed by the local community for many years."
Hocking resident Adriana Cullen said the park would be a wonderful addition to her neighbourhood.
"My husband and I chose to build in Hocking because it is a family friendly suburb," she said. "I often take my children to the park and cannot wait to see it transformed into an exciting play area where we can enjoy barbeques and picnics as a family."
Around $1.7 million has been allocated to the annual Parks Asset Renewal Program, which will facilitate the replacement of play equipment, rubber and sand softfall, shade sails and barbecues at a host of local parks and playspaces.